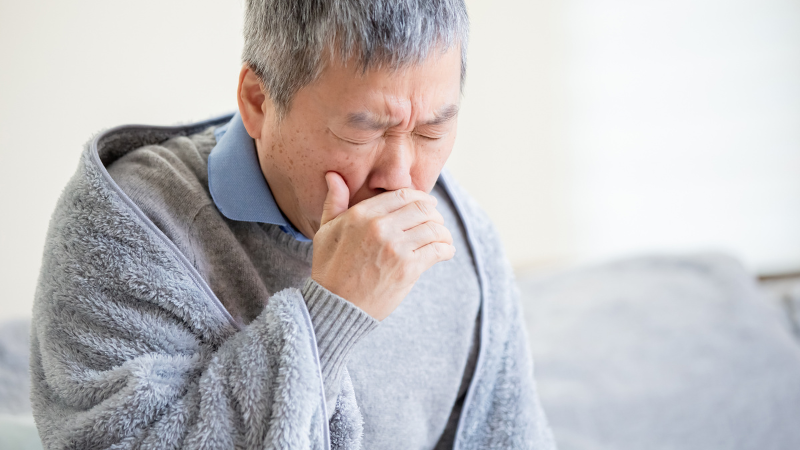 Senior Care Tips: Common Cough Problems in Older Adults
You already know that aging is accompanied by sagging skin, deepening wrinkles, thinning bones etc. But are you aware that as you age your immunity gets compromised? Seniors with a weak immune system are more prone to getting infections and serious health problems. They may also find themselves dealing with either a mild or a chronic cough. In such conditions, it is important to practice senior care tips for your loved one to keep them healthy and safe.
What Causes Cough Among Seniors?
Coughing in elderly has become common. Let's look at the most frequent respiratory diseases among seniors.
1. Acute Bronchitis:
Bronchitis is a very dangerous lung infection among people over the age of 55, marked by dry cough, chest pain, and shortness of breath. Adults with a history of smoking are also likely to get bronchitis. If not taken care of in its early stages, it can lead up to serious complications such as pneumonia or respiratory failure. Hence, it is important to seek medical attention as early as possible.
2. Allergy:
During the fall and spring seasons, seniors are susceptible to pollen allergies that can cause serious coughing with watery eyes and nasal congestion. Apart from this, your loved one could be allergic to other conditions such as air pollution, house dust, mold, or food. Sometimes these common allergies can be dangerous for your elderly loved one if they last longer.
3. Asthma:
Is your elderly loved one facing any other issues along with coughing such as shortness of breath, chest tightness, fatigue, or dry mouth? They might be having Asthma. This is not something related to genetics. As adults age, their lungs become weaker resulting in loosening their elasticity which causes inflammation. The most common and effective treatment is using an inhaler.
4. Postnasal Drip:
Postnasal drip is a bothersome condition that leads to chronic cough. However, it has always been neglected or overlooked as it may not to be life-threatening. This happens when mucus drains down from the nose and goes straight into the throat causing itchiness and irritation. Usually, older people experience this with the common cold, flu or Sinusitis concerns, and leaving it untreated leads to excessive mucus build up in the system.
5. Gastroesophageal reflux disease:
GERD is a progressive phenomenon that becomes more profound when people reach their 60s or 70s. This is the time when their stomach acts up and their ability to sense acid begins to fade. Seniors facing this type of condition can have two types of coughs: When the acid flows back into the esophagus, it stimulates reflexes which causes persistent urge to clear the throat, hence causing cough. The other reason is accumulation of tiny food particles in the throat after having a reflux which could lead to throat itchiness and coughing.  To prevent cough caused by GERD, it is recommended to feed smaller portions to your loved one and at least two hours before bed.
6. ACE Induced cough:
One of the annoying side effects of angiotensin-converting enzyme (ACE) inhibitors is cough. Even though these medicines help your elderly ones with treating their blood pressure, hyper-tension, diabetes etc. there is a 40% chance of them getting a dry cough from it. This usually happens a lot in older women then men. If the cough gets worse over days or weeks, then we recommend that you talk to their doctor about changing the prescribed medication.
What are Natural Cough remedies for Senior Citizens?
Increase the number of fluids to thin the mucus
Use humidifier
Avoid smoking and any use of tobacco
Honey and ginger tea
Steam
Sucking cough or hard candies
Marshmallow root infused hot water
Dietary changes to avoid acid reflux
Saltwater gargle
Eating fennel seeds in a powdered form
Tips to Help Prevent Cough in Seniors:
We all have heard the famous saying – prevention is better than the cure. We've listed basic things that you or your caregiver needs to consider for senior care.
1. Practice Good Hygiene:
This is a must. Make sure your elderly loved one washes their hands frequently during the day and before and after eating. It is also you and your caregiver's duty to make sure they bathe and brush their teeth regularly in the morning and at night.
2. Use a Sanitizer or a Disinfectant Wipe:
Even if your elderly loved one is ill or not, we still recommend that you make sure there is cleanliness around the house and their personal materials are washed regularly.
3. Eat Healthy and On-Time:
Having a well-balanced diet is important as you age. To keep their bowel movements active, include plenty of fiber and protein in their diet. If you do not have plenty of time to cook and prepare meals for your loved ones, then you can also reach out to our caregivers, and they would happily do the service for you and make sure that your loved one eats on time.
4. Reduce Stress:
Social isolation and loneliness hinder personal health and it may affect your senior's stress level. It is necessary to spend at least an hour with them by the end of the day. You can also appoint elder care services at home and this way your loved one will have some company.
When should elderly people seek Medical Care?
Most seniors with a cough should be able to recover from home without any medical intervention. However, in certain situations, if you notice that your elderly loved one is not able to cope with the cough, and chest congestion irrespective of the home remedies, then it's the right time to seek care from their primary care doctor.
In-Home Care for Senior Citizens:
Senior helpers or caregivers can provide extra support and assistance to your seniors especially when they are feeling sick or recovering from their illness. We at Assisted Hands, Fort Worth can provide quality senior home care to your loved ones. We can monitor symptoms of cold and cough and help with medication reminders, meal preparation, housekeeping, and companionship. With the right senior care and guidance, your loved ones can get over their cough quickly and enjoy their quality time with you. Contact us today at (817)-803-6648 to learn more.