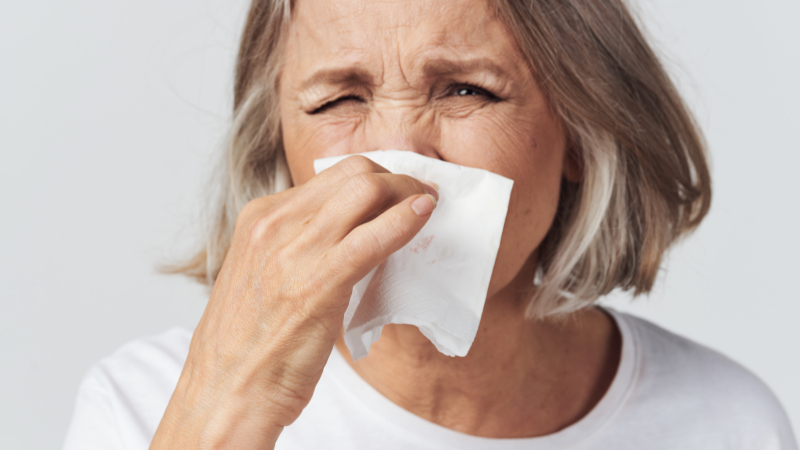 How to Help Seniors with Chronic Runny Nose?
Is your elderly loved one experiencing persistent nasal drainage that just won't seem to let up? Seasonal flu typically comes and goes, but when you observe your elderly family member grappling with ongoing symptoms like a perpetually runny nose, nasal congestion, or excessive mucus production, there may be an underlying health condition at play. Addressing these chronic nasal issues is a crucial component of senior home care, as it can significantly impact your loved one's comfort, overall health, and quality of life. In this blog, we will explore the root causes of persistent runny noses in seniors and offer practical guidance on how to assist them in managing and finding relief from this persistent issue.
What Causes Chronic Runny Nose in Seniors?
Before we jump into any remedies, it is crucial to understand what the cause of this condition might be. However, there are several potential reasons such as:
Rhinitis: Rhinitis usually happens due to non-allergic causes such as changes in weather, fumes, irritants in air, and hot and spicy food that can lead to persistent issues of sneezing and drippy nose. It is generally a chronic long-term problem.
Allergies: Seniors can develop allergies later in life or have pre-existing ones that become more pronounced with age. Seasonal or year-round allergies to pollen, dust mites, pet dander, and mold can lead to a chronic runny nose.
Vasomotor Rhinitis: This condition is characterized by a non-allergic runny nose triggered by strong odors, alcohol ingestion, rise in temperature, and humidity.
Medications: Medicines that are prescribed to your seniors can have a reverse side effect that can lead to chronic runny nose in seniors. Medicines that are anti-inflammatory, for blood-pressure lowering, or psychiatric drugs can trigger non-allergic rhinitis in elderly individuals.
Underlying Health Problems: Chronic runny noses can also be a symptom of underlying medical conditions like chronic obstructive pulmonary disease (COPD), gastroesophageal reflux disease (GERD), or immune system disorders.
Aging-Related Changes: As individuals age, changes in the nasal passages, such as thinning and drying of nasal tissues, can make them more prone to sneezing and runny nose.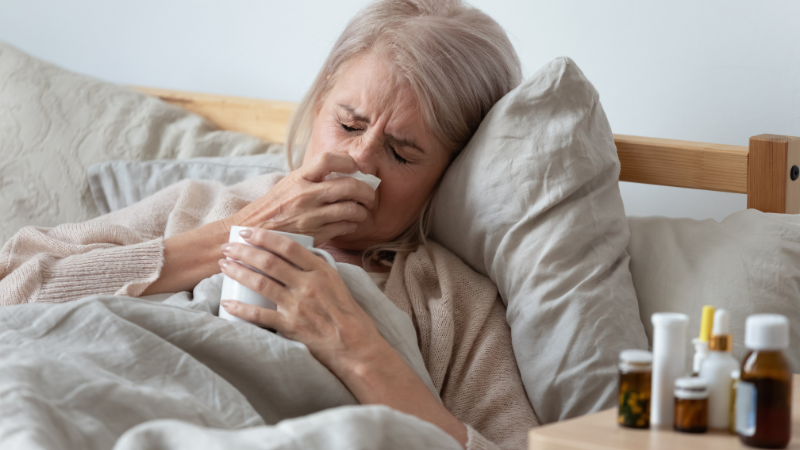 10 Helpful Home Remedies for Seniors with Chronic Runny Nose
Managing chronic runny nose in seniors involves a combination of lifestyle adjustments, food intake, and home remedies. If the issue remains persistent and seems difficult to live with, we advise you to seek medical interventions and treat the underlying cause. Here are some helpful tips for seniors struggling with chronic runny nose:
Identify and Avoid Triggers: Determine if there are any allergies that are triggering the cold. Usually, you need to take a blood test to identify this. Seek help from your senior's doctor and conduct the necessary steps for it. If allergens are the cause, take steps to reduce the exposure and avoid them as much as possible.
Use a Humidifier: Try putting some humidification in your senior's bedroom or living space where they spend most of their time. Moist air can help relieve nasal congestion and soothe the nostrils.
Stay Hydrated: Encourage seniors to drink plenty of fluids, especially water. When dealing with a runny nose, there can be some nasal congestion as well. Drinking water can thin out the mucus which can expel easily out from the nose.
Hot Teas: In addition to water, older adults should consume hot beverages that can soothe their throat and may help in thinning the mucus to make it easily clear out. The best teas for a cold include herbal tea, peppermint tea, green tea, and lemongrass tea. While your senior loved ones drink these types of teas, not only will it help them cure their runny nose but will also provide some energy. These teas have antioxidants, Vitamin C, and antiviral properties.
Avoid Irritants: Reduce your elderly loved one's exposure from irritants like tobacco smoke, strong odors, and spicy food substances, which can exacerbate nasal symptoms in them.
Healthy Diet: A balanced diet rich in fruits and vegetables can help boost the immune system and reduce inflammation. Also, if allergies are contributing to runny nose, make sure your senior loved ones avoid them.
Regular Exercise: Encourage light to moderate exercise, as it can improve circulation and overall respiratory health.
Steam Inhalation: Steam inhalation won't directly treat the underlying illness, but it can soothe the nasal passages that can lessen the side effects among your elderly loved one. Inhaling steam from a bowl of hot water (with a towel over the head) can provide temporary relief from congestion and help thin mucus. You could also try some warm compress or hot showers with them.
Nasal Spray or Strips: Nasal strips can be a convenient and non-invasive option for seniors to improve breathing during sleep or throughout the day. They cannot cure the issue but can help soothe it, especially during nighttime.
Consult a Doctor: If nothing works, it is best to consult a doctor. Speak to your senior loved one's primary care physician to understand what can be done to improve their living.
How Can a Caregiver Support Your Senior Loved Ones?
In-house caregivers can play a significant role in assisting seniors who are dealing with chronic runny nose issues. They can help by monitoring symptoms, ensuring medication compliance, and creating a clean and allergen-free living environment for your elderly loved ones. Their proactive approach to managing chronic runny nose not only enhances the senior's comfort and quality of life but also contributes to early detection and intervention for underlying health conditions, ultimately promoting better overall well-being.
Is your senior dealing with runny nose? Incorporating chronic runny nose management into senior home care plans ensures that seniors receive the attention and support they need to address this condition effectively. It also promotes a holistic approach to senior care, focusing on both physical well-being and emotional comfort. We at Assisting Hands, in Forth Worth West, TX approach seniors in a comfortable and respectful way when offering senior home care services and make sure your elderly loved one receives the utmost benefits during the service. To learn more about our services, call us at (817) 646-2970.