Understanding Frontotemporal Dementia
Frontotemporal dementia is a term used to describe brain disorders in the frontal and temporal areas of the brain. When an individual develops symptoms of frontotemporal dementia, it is an indication that the neurons in the frontal and temporal lobes of the brain have undergone damage.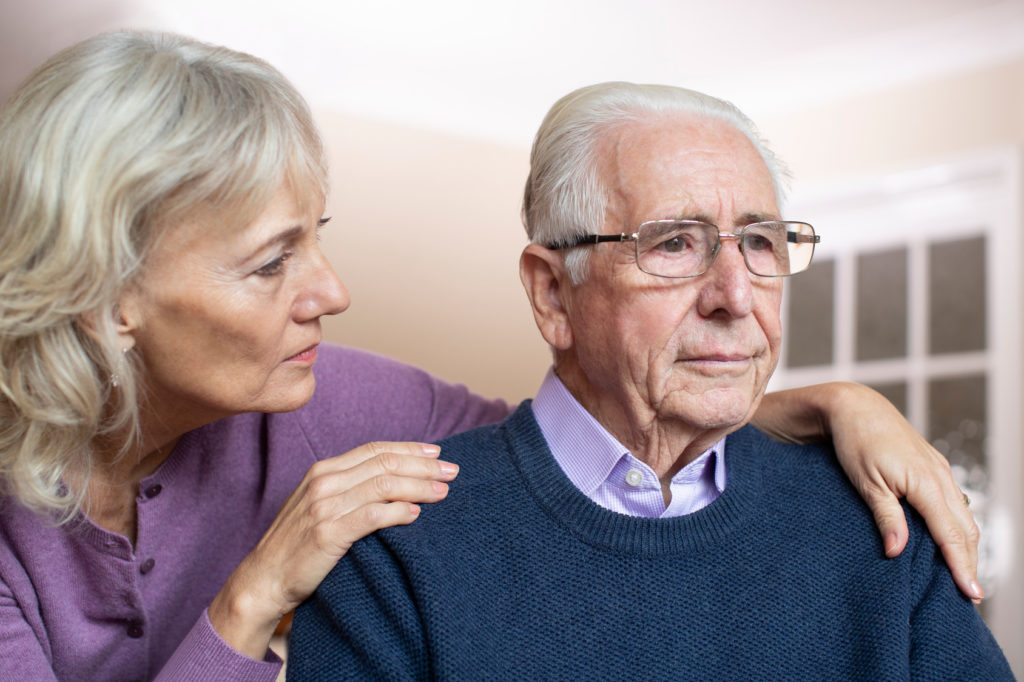 What are the frontal and temporal lobes?
The frontal lobes are situated in the brain on the left and right sides. The lobes are located just above the eyes and behind the forehead. The purpose of the frontal lobes is to execute functioning. Several executive functions necessary to accomplish daily routines are directed by the frontal lobes.
Decision making is the primary role of the frontal lobes. Planning and sequencing, which include determining what comes first, second and third, are facilitated by frontal lobes. Prioritizing, multitasking, monitoring and correcting errors are also responsibilities of the frontal lobes.
Emotional responses are managed by the frontal lobes. The lobes regulate social behaviors. For instance, when the frontal lobes work properly, the individual would refrain from yelling during a funeral. Forming sentences and other aspects of language are controlled by frontal lobes, too.
The temporal lobes are also located inside the brain, just below the frontal lobes. Memory functions are managed by the temporal lobes, as well as language and emotions. Temporal lobes contribute to understanding and connecting words. They also facilitate relating appropriate emotions to life events.
What happens when these lobes are damaged?
Decision-making is a primary role of the frontal lobes. Consequently, in an individual whose frontal lobes have suffered damage, managing finances becomes problematic. Additionally, the senior may resort to inappropriate social behavior, like shouting in the quiet car of a train or pursuing purposeless behaviors.
When the temporal lobes are dysfunctional, the individual will have difficulty recognizing items. The senior may purposely touch the red coils of a hot stovetop without recognizing it as a dangerous object. The damage causes a lack of recognition of emotions and ability to respond to them properly.
What are the types of frontotemporal dementia?
Behavior variant frontotemporal dementia (also known as bvFTD) strikes seniors in their 50s and 60s, but also affects people in their 70s and late 80s. Roughly, about 50,000 to 60,000 people in the US have the disease. In individuals over age 65, this condition is less common than Alzheimer's disease.
In behavior variant frontotemporal dementia, the nerve cell loss primarily occurs in areas of the brain that control judgment, conduct, foresight, empathy and other cognitive faculties. Characteristics of the disease include a range of noticeable changes in both personality and behavior.
A second major type of frontotemporal degeneration is primary progressive aphasia (PPA), which adversely affects the senior's abilities to communicate through speaking, writing and comprehension. Although PPA often occurs before age 65, the disease may occur later in life, too.
How is frontotemporal dementia diagnosed?
A physician familiar with similar disorders will be able to accurately diagnose frontotemporal dementia after a series of neurological examinations and discussions about the problems the patient experiences. Tests may include magnetic resonance imaging (MRI) and glucose positron emission scan.
Is frontotemporal dementia a genetic condition?
In approximately one third of all cases, genetics play a role and lead to patients inheriting frontotemporal degenerations. Currently, other risk factors are unknown. Those with a family history of the disorder or similar brain disorders may seek genetic counseling and testing.
What are symptoms of frontotemporal dementia?
Patients with the disorder exhibit behavior changes, such as loss of inhibition, a decline in personal hygiene and loss of empathy. Speech and language problems occur, including no longer knowing the meanings of words, trouble finding the right words or making errors in sentence construction.
Is treatment available?
No known treatment is available at the present time for any of the frontotemporal dementia subtypes. However, physicians may prescribe medications to ease symptoms associated with the disorder, such as depression, irritability or agitation, with the goal to improve the patient's quality of life.
What is the prognosis?
Frontotemporal dementia is a progressive brain disorder, meaning the condition will only continue to worsen. The speed of decline, however, varies from person to person. Individuals can survive for years with the disorder; but those with muscle weakness may become wheelchair bound or bedridden.
Muscle weakness can also cause the patient to develop issues with swallowing, chewing, bladder or bowel control and being mobile. Seniors with frontotemporal dementia eventually succumb to the disorder due to physical changes caused by infections of the lungs, skin or urinary tract.
Over time, and as the disorder progresses, individuals suffering from frontotemporal dementia will have to rely on caregivers throughout each day. The seniors' reliance is a result of experiencing a steady decline in their abilities to process information cognitively and to function independently.
Frontotemporal dementia is a progressive disorder with no known cure. The damage to nerve cells in the brain cannot be reversed or prevented. As mentioned, however, medications and lifestyle changes can improve a patient's symptoms. Turn to Assisting Hands Home Care for caregiving support.
Any type of dementia will reduce the patient's ability to function independently at home. Professional in-home caregivers from Assisting Hands Home Care are skilled and experienced in assisting seniors with brain disorders. We provide compassionate non-medical dementia and Alzheimer's care.
Our specialized in-home memory care services include help with the symptoms of dementia, such as wandering, agitation, incontinence and forgetfulness. We gently lead care recipients back home when they wander, calm them when they are agitated and remind them to take the right medications on time.
In addition to personal care, we provide companionship services. We stimulate seniors' minds with memory exercises. Our caregivers make efforts to connect with care recipients. Plus, by conducting home assessments, we'll ensure your loved one's home is safe and free from fall risks.
Assisting Hands Home Care services are flexible. Whether you need respite care, live-in care or 24-hour care, we will develop a customized care plan for the senior in your life. Families with seniors living in Brookfield, Elm Grove and Pewaukee Wisconsin, are encouraged to contact us at (262) 721-1155 for compassionate home care.
Source: https://www.nia.nih.gov/health/what-are-frontotemporal-disorders