Assisting Hands Alert
At Assisting Hands, one of our goals is to help your loved-ones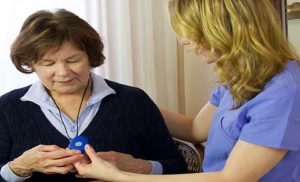 live safely, securely and independently at home for as many years as possible. Studies have shown that the faster a senior gets help after a fall, the more likely they will return home. Assisting Hands® has teamed up with SafeGuardian to develop the Assisting Hands Alert™ call button to ensure the safety of our clients even when our caregivers are not in the home.
A wireless Assisting Hands Alert™ call button is widely considered the World's most advanced technology available anywhere. It contains revolutionary help alert technology that is decades ahead of ALL OTHER traditional home medical alarm systems. Offering many more features and benefits than a standard home medical alarm, it provides unmatched flexibility and security.
Calls/Texts Up To Five Contacts. Spouses, family, loved-ones, friends neighbors and caregivers. Users love that they are calling family for routine, even urgent personal assistance. No unnecessary (and costly) ambulances.
Two-Way Speakerphone. Loud built-In speaker and sensitive microphone for "hands free" calls.
Text Message Alerts. Everyone on contact list nationwide receives immediate text message when help button is pressed. Long distance family members are always "in the know".
FREE Fall Alerts with Automatic Activation. Notifies all contacts immediately in the event a possible fall.
Built-in Real Time GPS locator. Contacts can pinpoint the user nationwide at any time in just seconds.
Call in-Listen In Feature. Authorized contacts can call in and speak with the wearer – just like a cell phone!
User Programmable from any Smartphone. Update contacts & features from anywhere in seconds
24/7 Monitoring Available. Add professional monitoring services for extra protection.
Waterproof/Showerproof. Provides protection in the bathroom where many accidents happen.
Completely Self-Contained. No home phone landline is required.
Now, you can enjoy peace of mind knowing that you or your loved is always safe and secure. As an Assisting Hands client, you will also enjoy our exclusive client discount pricing