Assisting Hands offers highly rated home care services to help senior citizens and adults with limitations in Wellington, Florida and the surrounding areas live safely at home. Our non-medical home care services include:

Alzheimer's and Dementia Home Care (In-Home Memory Care)
Assistance with the ADLs (Activities of Daily Living):

Meal Preparation / Grocery Shopping
Light Housekeeping / Laundry
Bathing / Personal Care
Accompany on Walks and to Doctor Appointments
Medication Reminders / Picking up Prescriptions
Please click to see the full list of other services

Home Care / Non-Medical Home Health Care
Respite Care
The Baby Boomer Generation has revolutionized the in-home care services field. While their parents may have had limited options when it came to senior care, they have more choices, including help with non-medical tasks like meal preparation, light housekeeping, grocery shopping, and companionship. More progressive senior care services include Alzheimer's and dementia care and hospice care. These services allow people to stay in the comfort and security of their own homes, often for the rest of their lives.
Activities of daily living are difficult enough for anyone who has recently had surgery, been seriously ill, or hospitalized, but it's even more difficult for many senior citizens. It may take them longer to recover, or they can become easily tired and unable to keep up with tasks.
The highly qualified caregivers at Assisting Hands Home Care provide outstanding in-home care services for seniors in Wellington, FL who need extra help around their homes. We thoroughly screen our providers before hiring them, and our home care aides can be available within 24 hours or less, if necessary.
Non-Medical Home Health Care Services in Wellington, FL and Surrounding Areas

For Professional Non-Medical Home Health Care Services in Wellington, FL, Call Assisting Hands Home Care Agency at (561) 781-5885. Request a Free In-Home Consultation.
Assisting Hands Home Care is a full-service home care agency that provides non-medical home health care services to seniors, expectant mothers and adults with limitations in Wellington, FL area. Our company has an excellent reputation of trust, reliability, and excellent service within the Wellington, FL community, and we work to maintain that reputation every day. All of our caregivers are carefully screened and pass extensive background checks before they are hired. They are trained in first aid and CPR, and they are bonded and insured, to give our clients complete peace of mind.
We offer a wide range of short- and long-term care services so our clients can age in place in comfort and security, including:
Senior Home Care
The home health care aids at Assisting Hands Home Care provide a wide range of care to seniors. We also transport them to doctors' appointments and physical therapy sessions. Our care managers ensure that all members of the client's healthcare team are kept up-to-date regarding any changes to health or behavior.
Hospice Care at Home
Assisting Hands Home Care provides compassionate hospice care services that allow patients to spend their final days, weeks, or months in the comfort of their own homes in Wellington, FL, surrounded by the people and things they love best. We keep patients as pain-free and comfortable as possible, so they can enjoy quality time, and help them pass with dignity and respect.
Respite Care
Family members often shoulder much of the burden when a family member needs some kind of care, but that can be difficult to manage long-term. It's easy to forget something when balancing caregiving with a job, a family, and other obligations, and burnout is always a possibility.  Assisting Hands Home Care provides respite care to allow the family caregiver a break to take care of personal business or just get away on a vacation. We work with the caregiver to develop a plan of care so there are no disruptions in the schedule, giving everyone peace of mind.
Alzheimer's and Dementia Home Care
Patients with Alzheimer's or other forms of dementia need specialized care to ensure their safety. Even a brief lapse in supervision can mean a patient can get into a dangerous situation. The caregivers at Assisting Hands Home Care are specially trained to provide high-quality care to these patients. We make sure they receive the specialized care they need, and we work with them on memory stimulating activities.
After Surgery Care
It's difficult to recover from any kind of surgery and trying to accomplish daily activities can seem impossible. It's even worse for seniors, but if they don't follow medical instructions they are at risk for setbacks. Assisting Hands Home Care can help by providing post-operative care for clients recovering from all types of surgeries. We keep them comfortable, dispense medications, and monitor their conditions to ensure their safety and chances for a full recovery.
Overnight Home Care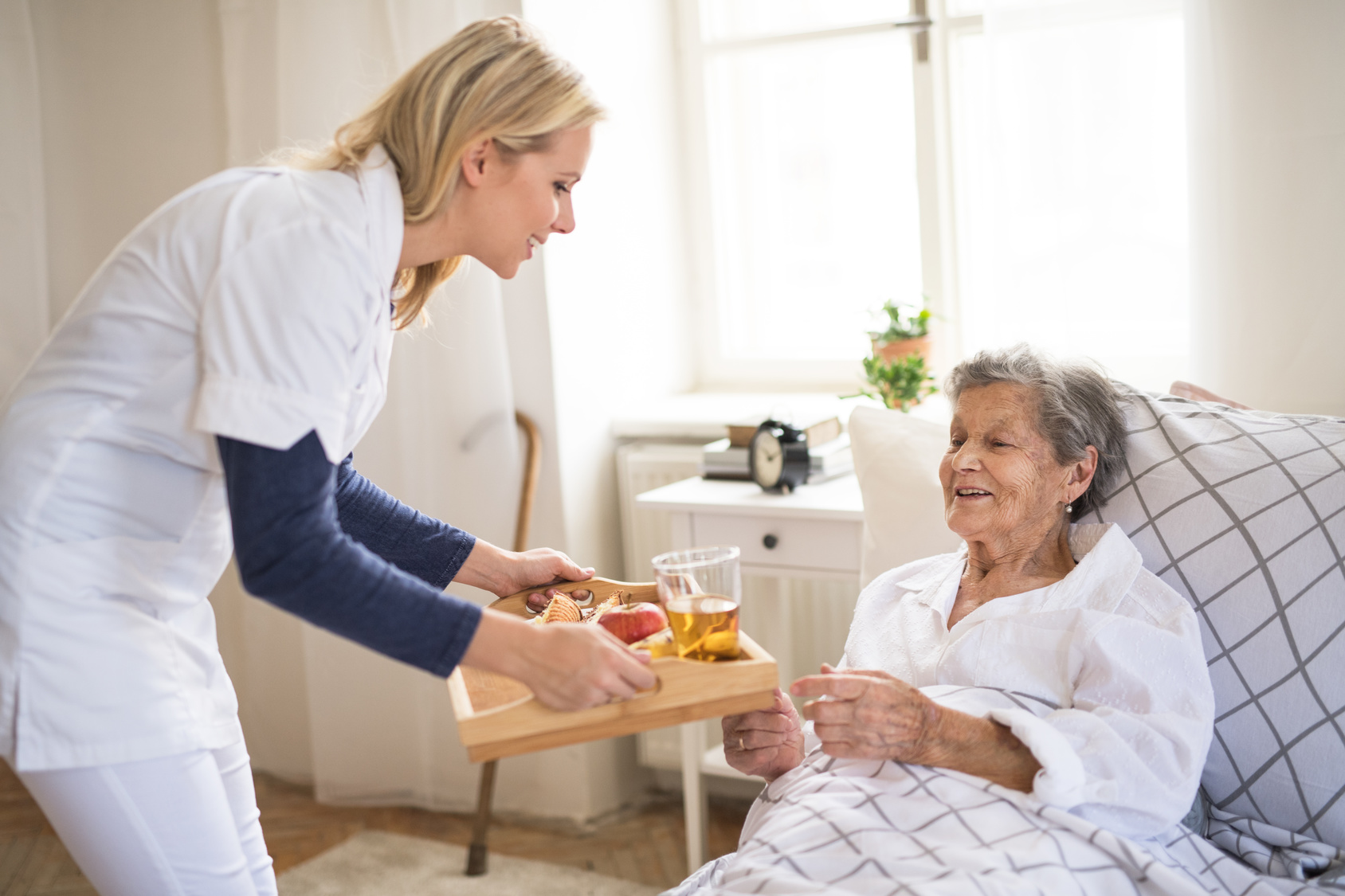 Being a family caregiver is already stressful enough and having no real solution for providing care for your loved ones at night can make your stress even worse.  Seniors may need assistance during the night to use the restroom, and it is always possible for an emergency to occur. Having someone nearby in the middle of the night will help keep your loved ones safe and ensure that there is someone there to respond to emergencies.  Assisting Hands Home Care provides overnight home care services in Wellington, FL to help families care for their loved ones overnight. We can help your loved ones get ready for bed and we will be awake during the night to help with restroom use and other matters as needed.
Live-In Care & 24 Hour Home Care
While some seniors can live comfortably in their homes with limited help, others may need constant care to ensure their safety.  It is difficult for families to provide 24-hour care for their relatives on their own which is why Assisting Hands Home Care – Palm Beach County provides live-in care and 24 hour home care services for those who need it in Wellington, FL.  With these services, one of our caregivers will live in the home of your loved ones to ensure that their care needs are met 24 hours a day.
Personal Care and Companion Care
The daily activities we do without thinking become daunting after a stroke, injury, or dementia diagnosis. The caregivers at Assisting Hands Home Care can help with daily tasks like bathing, grocery shopping, preparing meals, and non-medical transportation, so clients can stay in their own homes longer. We can help with any need with compassion and care. If clients don't have family nearby in Wellington, FL, we can help them pursue hobbies and recreational activities that keep their bodies and minds in shape.
Call Us to Schedule a Free In-Home Assessment For Your Home Care Needs
No matter what kind of service your loved one needs, Assisting Hands Home Care can create a plan that will suit the situation, whether it's 24/7 care or weekly visits to check in. Our goal is to ensure that our clients can stay in their own homes in Wellington, FL, healthy and happy, for as long as possible. Call Assisting Hands Home Care at (561) 781-5885  to schedule your complimentary in-home assessment today.
---
Related Non-Medical In-Home Health Care Services: