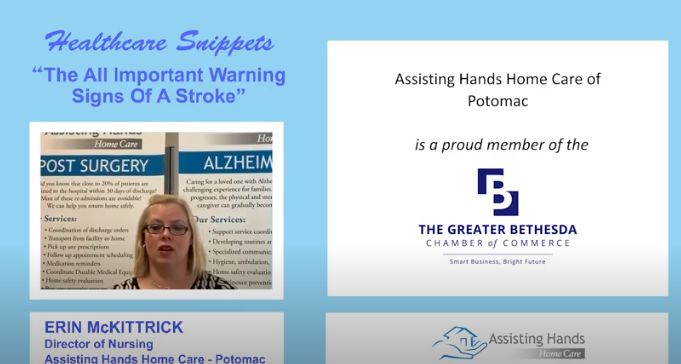 Aging in Place: The Signs of a Stroke
The All-Important Warning Signs of a Stroke
Erin McKittrick:
Hello, Bethesda. I'm Erin McKittrick, Director of Nursing for Assisting Hands Home Care. We are a proud member of The Greater Bethesda Chamber of Commerce. I'm here today to share with you all of the important warning signs for a stroke. If you even think you're having a stroke, call 911. Timing is everything, it's important, it can save a life. The life you save may be yours.
Think fast. F is for face drooping. A is for arm weakness. S is for speech. And T is for time to call 911. Please heed these stroke warning signs and call 911 immediately. If you're alone and can unlock your door, then the EMTs can get to you more quickly. Assisting Hands is here to help our Bethesda community. Thank you, and be safe.
If you would like to schedule an appointment to discuss your Alzheimer's and Dementia care needs or to set up a free in-home evaluation with one of our nurses, call us today in MD at (301) 363-2580, or in VA at (703) 556-8983. We are located in Bethesda, MD, (301) 363-2580, and Reston, VA, (703) 556-8983.