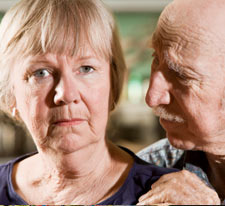 What is Alzheimer's and Dementia?
Dementia is a general term used for loss of memory or cognitive ability that can disrupt everyday life. There are different types of dementia such as: Alzheimer's disease, Vascular Dementia, Mixed Dementia, Parkinson's Dementia, Bodies Dementia and others. Alzheimer's disease is the most common, accounting for 60-80% of dementia cases.
Sign & Symptoms: Alzheimer's vs. Aging
How can you tell if it is Alzheimer's? Not everyone who experiences memory loss is suffering from Alzheimer's or another form of dementia. Signs of dementia can include:
impaired focus
uncharacteristic mood changes
difficulty finding the right words to use
repetition of sentences and tasks
short-term memory loss
The best way to know for certain is to consult a physician. There are currently medications available to help slow the progression but there is not a cure for this disease.
How Assisting Hands Home Care Helps
When the news of a dementia diagnosis is received, families are faced with additional stresses and difficult decisions about how to care for their loved ones. Assisting Hands Home Care is there to help relieve those stresses. We provide in-home dementia care to keep your loved one in a secure environment while receiving daily assistance, socialization and stimulation.
Our Qualified Caregivers
At Assisting Hands Home Care, we take a person-centered approach to Alzheimer's disease and dementia. We understand each person can be at different dementia stages, so we develop our care plan around the person, not the disease.
Assisting Hands Home Care caregivers are armed with the knowledge and tools necessary to understand who their client was before the disease as well as who their client is presently.
Our caregivers provide necessary social interaction to help keep your loved one's mind as sharp as possible, and are trained to offer memory stimulating exercises, such as working on puzzles, taking nature walks and personally interacting with their clients.
By keeping your loved one engaged and safe in their own home, Assisting Hands Home Care provides peace of mind for families and a greater sense of happiness for the client.