How to Celebrate the New Year with Your Loved Elderly
It's beginning to look a lot like winter which means the New Year is approaching. New Year's Eve is one of the most festive and special holidays of the year! It marks the end of the current year and the opening of a brand-new one with goals, resolutions, and expectations. It's a precious occasion for all family members to gather and share their year-long stories and life updates. Nothing is more meaningful and gratifying to the elderly than seeing all their children, grandchildren, and relatives in a warm family atmosphere. As significant as the holiday is, it is important to know how to best celebrate this memorable moment with your elderly loved ones. Here are some helpful suggestions to make it a noteworthy one.
1. Turn on Classic Holiday Music
Holiday songs are one of the most special things about the season. Listening to familiar melodies may help recall memories and feelings from the old days. It can help encourage recollection for seniors with Alzheimer's and Dementia. You can create the magical holiday experience by discovering the typical hit playlist, playing them on a vintage CD player, and singing and dancing along with your elderly loved ones.
To learn more about how music can advance the senior's health and memory, read 5 Health Benefits of Music for Aging Seniors.
2. Enjoy All-time Favorite Shows

Same with music, holiday movies and shows are numerous and play a major part in formulating identity. Revisiting the classic films that your loved ones used to watch on a videotape will help remind them of the past and trigger memory flashbacks. It can be a fun and favorable practice for Alzheimer's and Dementia Care.  Making an attempt to find and show your seniors video footage from their youth, childhood, or parenthood will be an emotional and meaningful experience for the holiday.
3. Initiate quality Story Time
It is not uncommon for the elderly to love talking. As a family member or a companion caregiver, you may have heard the same old stories a million-plus times already. Despite that, ask your senior to tell you again this new year. When they talk about their past and experience, it gives them a feeling of living it again. Plenty of changes have happened in technology, history, and culture throughout the years, it would be interesting for you and your kids to listen to the lives of different generations.
4. Create New Year Decoration Project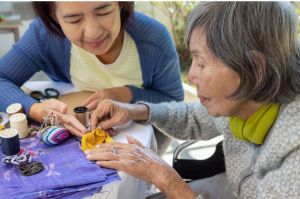 New Year's Eve is a perfect occasion to keep your senior loved ones active with fun projects. Instead of solely buying decorations from the store, you can check out some simple DIY ideas and get your elderly loved one to work on them with you. Basic crafting options are various like holiday props, construction paper, stocking, and scrapbooks. One of the easiest and most amusing decorations is printing out funny or beautiful pictures of family members. You may place them in the living room or around the house with colorful lighting, frames, or your wall design.
5. Bake Holiday Cookies
As seniors age, they may not be eager to participate in activities that require detailed orientation, like decorating. In that case, you generally cannot go wrong with baking. It's just as simple, easy, and fun. Your senior loved one still gets to be flexible and make delicious desserts for the New Year. At the end, who doesn't enjoy grandma's cookies?
6. Make a New Year Resolution List
New Year's Resolutions are not only for young people. As people become older, the concept of reaching closer to mortality may cause the elderly to recognize the relationship between them and their life's purpose. They're more aware of their health, strength, and weakness. They want to complete the bucket list when they still have time on hand. They focus more on hobbies and enjoying life outside of work and study routines. Help your elderly achieve great things this new year. It can be eating more vegetables and fruits, exercising every day, reading more books, organizing old collections, getting more sleep, quitting dairy, or simply doing something that always got pushed on the back burner.
7. Play family-friendly games
Rarely is a reunion moment of family members and friends all together. There is no better occasion to play some games and bring up some competition and laugher in the house than this holiday. Set up some amusing games suitable for all ages and large groups like board games, video games, card games, and dice games. Your elderly may highly enjoy word and number games as they get to ponder and resolve something after years of retirement. Diversifying all types of entertainment can be substantially beneficial for seniors' mental health.
8. Take Precaution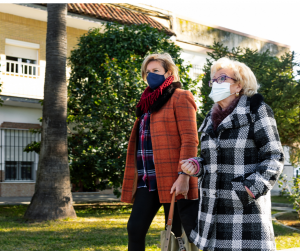 The COVID pandemic is an ongoing problem. As their immune system is weaker, it is essential to ensure that your elderly loved one is protected against the virus. If any of the guests or family members experience COVID symptoms or allergies, it is recommended that they should not stay in close contact with the senior. Be mindful of your elderly loved one's health and make it a safe holiday.
New Year is the mixture of celebrating the closing of past accomplishments and welcoming the future of betterment and blessing. Let Assisting Hands Home Care help you make the holiday a significant moment for you and your senior loved ones. Assisting Hands provides professional 24-Hour Home Care and Live-in Caregiving services. We are well-known for not only reliable elder care but also our variety of services, namely Alzheimer's and Dementia Care, respite care, post-operative care, and hospice care. Our caregivers ensure that seniors live comfortably and age with dignity. Having an in-home caregiver for your elderly loved one will help prevent loneliness and social isolation. Our caregiving experts will be good friends to your loved ones and are dedicated to their well-being and safety.
Assisting Hands Elderly Care will keep your elderly loved ones engaged and healthy throughout the holiday season. Our senior home care services are available to seniors living in Hollywood, Florida.
Call us at (954) 644-7276 for a complimentary in-home consultation to start quality home care.