The immune system is the body's way of fighting off infections. It takes a variety of minerals, antioxidants, and vitamins to fuel or bodies and keep our natural lines of defense strong. A simple and delicious way to get your nutrients is to enjoy a yummy bowl of soup. There are so many wonderful vegetables and flavors to explore when considering a recipe. Each vegetable, herb, and spice are packed with health benefits. Below are a few nourishing soups that are loaded with vitamins, minerals, and guaranteed to make you ask for another bowl.
This sweet potato soup is packed with many immune boosting nutrients. The base is sweet potato, well-known for beta carotene and its immune boosting benefits. Another ingredient is garlic, an immune boosting addition that is heralded for its ability to prevent cold and flu.
Immunity Boosting Soup
Author: Heather Christo
Prep time:  10 mins
Cook time:  55 mins
Total time:  1 hour 5 mins
Serves: 6
Ingredients
¼ cup coconut oil
6 cloves garlic
1 tablespoon ginger
1 yellow onion, chopped
⅓ cup slivered almonds
2 tablespoons turmeric
2 tablespoons curry powder
2 red bell peppers, seeded and rough chopped
1-pound sweet potatoes, peeled and chopped
2 bay leaf
6 cups vegetable broth
Kosher salt and black pepper
*I garnished with olive oil, black pepper, chives and avocado chunks
Instructions
In a large pot over medium heat, add the coconut oil with the garlic, ginger, onion, almonds, turmeric and curry powder and stir to mix everything well and cook until tender, about 5 minutes.
Add the bell pepper and sweet potatoes and add the bay leaf and then add the vegetable broth to cover everything. Bring it to a simmer and then add a lid and turn the heat to low.
Simmer for 30 minutes until the sweet potatoes are tender. Set the bay leaf aside and then working in batches, puree the soup until creamy and smooth and then transfer them back to the pot.
Add the bay leaf back to the soup and simmer for another 15 minutes. Season to taste with kosher salt and black pepper.
Turmeric has so many health benefits that it's considered a superfood. It is an anti-inflammatory and powerful antioxidant. So, not only is turmeric a great immune-boosting spice, it is also heart-healthy.
Immunity Boosting Turmeric Chicken Soup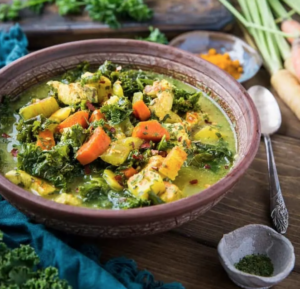 Author: Julia at The Roasted Root
Prep time:  15 mins
Cook time:  30 mins
Total time:  45 mins
Serves: 3-4
Ingredients
1 Tbsp avocado oil
1/2 small yellow onion finely diced*
2 large carrots peeled and chopped
1 large parsnip peeled and chopped
3 stalks celery chopped
3 cloves garlic minced*
1 lb boneless skinless chicken breasts chopped
2 tsp dried parsley
1 tsp ground turmeric
1/2 tsp ground ginger
1/2 tsp sea salt to taste
3 cups chicken broth
2/3 cup full-fat canned coconut milk
1 small head kale chopped
Instructions
Heat the avocado oil in a large stock pot or Dutch oven over medium heat. Add the onion and sauté, stirring occasionally, until translucent, about 5 to 8 minutes. Add the carrots, parsnips, celery, and garlic and continue sautéing, stirring occasionally, until vegetables are softened but still al dente, about 3 to 5 minutes.
Add the chopped chicken and cook just long enough to brown the meat, about 2 to 3 minutes.
Add the remaining ingredients, stir well and cover. Cook at a gentle simmer, stirring occasionally, for at least 30 minutes (ideally one hour). Taste soup for flavor and add more sea salt if desired. Serve and enjoy!
This recipe is a winter favorite. It's filled with flavor and nutrients. Lemons are great source of Vitamin C, which reduces inflammation and helps with immunity. Kale is another superfood because of its many health benefits. One cup of Kale has all the Vitamins A, C, and K recommended for daily allowance, according to www.thefoodiephysician.com.
Lemon Chicken Orzo Soup with Kale
Author: Breana Killeen of EatingWell Magazine
Prep time:  40 mins
Cook time:  40 mins
Total time:  40 mins
Serves: 6
Ingredients
2 tablespoons extra-virgin olive oil, divided
1-pound boneless, skinless chicken breasts, trimmed and cut into 1-inch pieces
1 teaspoon dried oregano and/or thyme, divided
1 ¼ teaspoons salt, divided
¾ teaspoon ground pepper, divided
2 cups chopped onions
1 cup chopped carrots
1 cup chopped celery
2 cloves garlic, minced
1 bay leaf
4 cups unsalted chicken broth
⅔ cup orzo pasta, preferably whole-wheat
4 cups chopped kale
1 lemon, zested and juiced
Instructions
Heat 1 tablespoon oil in a large pot over medium-high heat. Add chicken and sprinkle with 1/2 teaspoon each oregano (and/or thyme), salt and pepper. Cook, stirring occasionally, until lightly browned, 3 to 5 minutes. Using a slotted spoon, transfer the chicken to a plate.
Add the remaining 1 tablespoon oil, onions, carrots and celery to the pan. Cook, scraping up any browned bits, until the vegetables are soft and lightly browned, 3 to 5 minutes. Add garlic, bay leaf and the remaining 1/2 teaspoon oregano (and/or thyme). Cook, stirring, until fragrant, 30 to 60 seconds.
Add broth and bring to a boil over high heat. Add orzo. Reduce heat to maintain a simmer, cover and cook for 5 minutes. Add kale and the chicken, along with any accumulated juices. Continue cooking until the orzo is tender and the chicken is cooked through, 5 to 8 minutes more
Remove from heat. Discard bay leaf. Stir in lemon zest, lemon juice and the remaining 3/4 teaspoon salt and 1/4 teaspoon pepper.
April 15 – 21 is National Volunteer Week In these tough economic times, the budgets of service organizations must stretch…