The Assisting Hands® Approach to Alzheimer's and Dementia Care
We provide the support and individualized care that your loved one needs in any stage of Alzheimer's or dementia.
We believe in using a team approach that includes coordination with doctors, nurses, social workers, therapists, family members, and others involved in your loved one's healthcare needs.
Our Goal is to Enhance Quality of Life for Your Loved One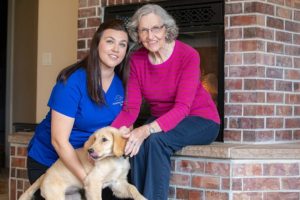 Helping your loved one safely remain happy and at home
Helping them stay connected to people, places and memories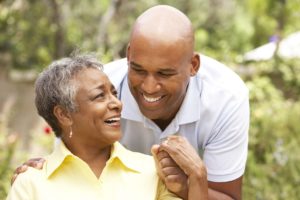 Helping with emotional well being and their best health
Our Caregivers, Certified Home Health Aides and Certified Nurse Assistants are trained to adapt to the changing needs of the patient because no two people experience dementia in the same way which is why we get to know your loved one in ways that ensure the best home care possible.
Caring for a loved one with dementia poses many challenges for families and caregivers. People with dementia suffer from conditions such as Alzheimer's disease, frontotemporal dementias, Lewy body disease, vascular dementias and other related diseases. These are progressive biological brain disorders that make it more and more difficult for them to remember things, think clearly, communicate, take care of themselves, and can even lead to personality changes.
Caring for a loved one with Alzheimer's is an extremely challenging experience for many families. As Alzheimer's disease progresses, the physical and mental demands on the family member providing care can gradually become overwhelming. Physical tasks like bathing, dressing, and toileting may require total assistance.
In Home Care is Often the Best Care
Many families prefer to keep their loved ones suffering from memory loss disorders at home so that they can remain in familiar surroundings with less disruption in routines, resulting in reduced confusion.
At Assisting Hands, we have a good understanding of what you and your family are going through and we're here to help. We are highly experienced and provide the support you need and the compassion you want for your loved one.
For more information call one of our nationwide offices near you. Click Here to find your closest office.
Complimentary In-Home Assessment
Call us today to schedule a care assessment and conversation with an Assisting Hands professional.