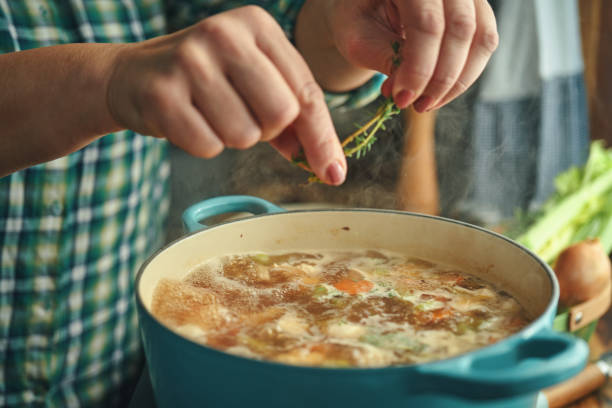 Whether it's the flu, allergies, or that lovely spring cold, flu fighter chicken noodle soup is the perfect comfort food when you are feeling sick! Loaded with tender chicken, vitamin packed veggies, egg noodles, a burst of lemon, a punch of dill, and just the right amount of spice, this soup is one flavorful hug is a bowl to wrap you right up and get you feeling a little bit better.
If you love a good chicken noodle soup loaded with all the classic ingredients but appreciate a new and creative twist, this soup is for you. As opposed to the classic way of poaching your chicken in the broth, this recipe calls for roasting the chicken in a blend of olive oil, spices, and herbs and shredded right before tossing into the hot pot of garlicky goodness. The roasting…it makes all the difference!
Besides the chicken tip, another great tip for this soup is in the broth. It can take a long time to achieve the perfect broth but using a combination of store-bought chicken broth and water really turns out great. Water and chicken stock may not sound like the world's dreamiest broth but that is where the veggies, citrus and herbs enter the story and shine through. Now you may be thinking…dill in a chicken noodle soup seems a bit odd…but chicken, lemon and dill are a match made in heaven.
Ingredients
For the Chicken
1 pound of boneless skinless chicken breast
2 tablespoons olive oil
1 teaspoon garlic powder
1 teaspoon ground cumin
½ teaspoon chili powder
½ teaspoon cayenne pepper
½ teaspoon dried oregano
¾ teaspoon salt
¾ teaspoon ground black pepper
For the Soup
3 tablespoons olive oil
3 large carrots, peeled and diced
3 stalks celery, diced
1 large onion, finely diced
8 cloves garlic, minced
Big pinch of salt
32 ounces of chicken stock
4 cups water
1 Bay leaf
2 cups of noodles, I like egg noodles in a chicken noodle soup, but use what you like
Juice of 1 lemon, plus more for serving
¼ – ½ cup fresh dill, chopped
Instructions
Preheat oven to 375. Place chicken in a baking dish, drizzle with olive oil and spices and bake for 30 minutes, or until chicken is cooked. Once cooked, pull into small chunks using two forks.
While the chicken is roasting, prepare the soup.
Heat oil in a large bottomed soup pot over medium heat. Add carrots, celery and onion and cook, stirring occasionally, 8-9 minutes. Add garlic and salt and cook for a minute. Add bay leaf, water and chicken stock and increase to high heat. Bring to a boil and reduce to medium-low and stir in the noodles and simmer for 10-15 minutes, or until the veggies are soft and the noodles are al dente. Stir in cooked chicken, dill, and lemon juice. Taste to adjust seasonings and then serve.
 Recipe credit – https://bakerbynature.com/flu-fighter-chicken-noodle-soup/

If you have got a cold or allergies have you feeling yucky, or you are trying to kick the end of the flu, you need to try this recipe. It's packed with healthy ingredients and it is absolutely delicious. This soup recipe is so flavorful, bold and healthy, and it's hard to not want to eat it every day once you've tried it. It is a great way to get your daily dose of protein and veggies and it comes packaged up in one steamy, cozy bowl.
If you or a loved one living alone are in need of personal care, consider Assisting Hands Home Care. They provide professional and compassionate caregivers who can help with meal preparation, groceries, shopping, and a full list of other services of in-home care. Find our list of locations by visiting https://assistinghands.com/location-list/
Written By: Lauren Foster
Did you know that something as simple as tripping on a rug or a wet floor can change your life?…