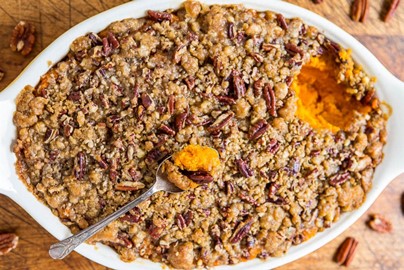 Thanksgiving conversations are typically centered around thankfulness and family, but what's for dinner soon follows! Thanksgiving provides an opportunity for loved ones to come together and enjoy a delicious meal. This recipe will provide the perfect side dish to your Holiday spread!
When preparing a holiday meal, it's beneficial to have most, if not all, of the side dishes ready to go before the day of. The turkey is typically the day's main dish, and it takes several hours to prepare, brine, and cook. Because of this, most people try to prep all of the other featured food items the days prior. Good news — this easy sweet potato casserole with pecan crumble topping is one of those dishes, and it's delicious!
Sweet potatoes are unique and can be used in several recipes ranging from brownies and enchiladas to this particular casserole. For this casserole, the sweet potatoes are mashed just so and come out tender, creamy, and fluffy. Then the crumbly, streusel top layer adds some sweetness to the savory dish. The butter, brown sugar, and pecans add the perfect crunch. Once baked in the oven, the brown sugar caramelizes with the butter, creating an irresistible taste — the crunchy butter pecan crumble topping is what really sets it apart.
To have more time with family, make this sweet dish ahead of time! The sweet potato filling should be assembled, and the topping placed. Then, the dish will need to be covered with foil and placed in the refrigerator overnight. The casserole should be placed directly in the oven from the refrigerator with an additional 10-15 minutes cook time.
Ingredients
Filling:
4 pounds raw sweet potatoes, diced into large chunks and boiled
2 large eggs
1/4 cup unsalted butter, softened
1/2 cup milk (can substitute with dairy-free option)
1/2 cup light brown sugar, packed
2 tablespoons granulated sugar
1 teaspoon vanilla extract
1/2 teaspoon salt, or to taste
1/4 teaspoon ground nutmeg, optional
1/4 teaspoon cinnamon, optional
Topping:
5 tablespoons unsalted butter, melted
2/3 cup light brown sugar, packed
1/2 cup all-purpose flour
1/4 teaspoon salt, or to taste
1 cup pecan halves
Directions
Make the Filling:
Add the sweet potato chunks to a large stockpot, cover with water, and boil. Cook over high heat until sweet potatoes are fork-tender. Drain well and transfer to a large bowl.
Preheat oven to 350F and spray a 2.5 to a 3-quart baking dish or a 9×13-inch baking pan with cooking spray; set aside.
To the large bowl with the sweet potatoes, add the eggs, butter, milk, brown sugar, granulated sugar, vanilla, salt, optional nutmeg, and optional cinnamon. Beat with a handheld electric mixer on medium-high speed until combined and fluffy.
Pour into a baking dish, smoothing the top lightly with a spatula, and set aside.
Make the Topping:
Add the butter and heat on high power to a large microwave-safe bowl to melt for about 1 minute.
Add the brown sugar, flour, and salt. Then toss with a fork or your fingers until moist crumbs form.
Add the pecans, toss to incorporate, and evenly pour the topping over the filling.
Bake the sweet potato casserole for about 45-55 minutes (or cover and refrigerate for up to 24 hours if prepping it in advance). The top should be lightly golden browned, set on the edges, and mostly set in the center. Baking time will vary based on the pan used (glass or ceramic baking dishes will bake for longer than metal pans), oven, climate, ingredient variances, etc. Start checking at 30 minutes, and repeat every 10 minutes.
Serve immediately.
Now that the sweet potato casserole has been prepped, cooked, and served, what's next? Obviously, Thanksgiving dinner is one of those meals where the food is typically left out for a couple of hours, giving people the opportunity to get seconds, or maybe even third servings. But if there are still leftovers, this casserole can be stored for the next day or put in the freezer for safekeeping for up to three months. It is best to reheat the dish if serving it up again! Cover the dish with foil and place in a 350-degree oven for 15 to 20 minutes.
This sweet, savory, delicious side dish will surely be a hit at any Thanksgiving dinner. The easy preparation, plus the ability to assemble it ahead of time, make this casserole a perfect option for the holiday meal. Not to mention, who doesn't love leftovers? Hopefully, there is room in the refrigerator!
Written by: Sara Frost
Welcome to another insightful edition of the Assisting Hands Home Care blog! Today, we're exploring a vital topic: cognitive stimulation…