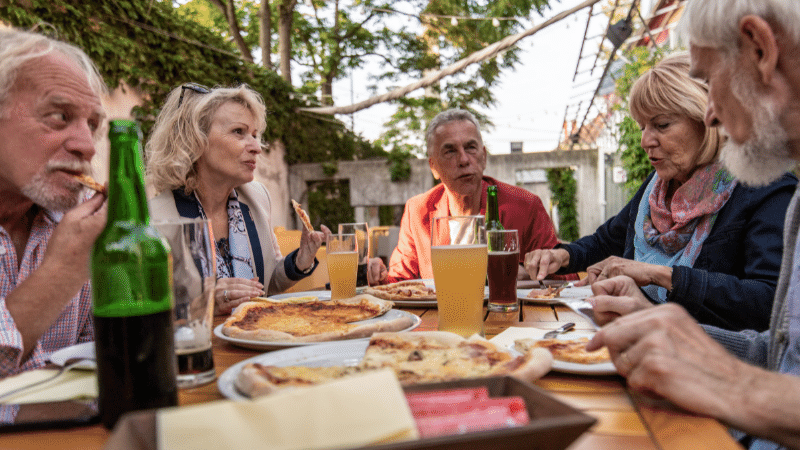 Labor Day Activities to Enjoy with your Senior Relatives
Labor Day Weekend is right around the corner and while it traditionally marks the end of summer, there's still plenty of time for fun activities for the entire family. The weather is still warm, and the sun doesn't set too early, so take advantage of a few of these Labor Day activities for seniors and everyone else in your family and make some memories that will last through the cold months to come.
Host a cook out, just because.
You don't need a special occasion to fire up the grill; if the weather is warm and you have food, that's enough reasons to do it! Seniors can spend quality time with different generations by preparing food, playing games, or sitting in lawn chairs and talking. Everything tastes better cooked on a grill, so you can sneak in servings of vegetables for picky eaters into kabobs. Being outside in fresh air encourages people to relax and enjoy themselves, while exposure to sunlight provides a good dose of Vitamin D.
Have a Retro Night.
Choose a decade and let that be the theme for the night. It could be the decade Grandma graduated from high school, or the years of Grandpa's childhood. Streaming services like Netflix and Amazon make it easy to find old movies and TV shows for everyone to watch; kids who are used to HDTV will be stunned by black & white shows and hokey special effects. If you want to go all-out, encourage everyone to dress in period-appropriate fashion and do a quick search online for popular recipes from that era. The 1950s had some rather unique casseroles that will make everyone appreciate regular meals. These are sure-fire conversation starters for everyone.
Enjoy a Staycation.
Avoid the hassles of travel and see what your area has to offer in the way of tourism. You won't have to worry about passports, travel delays, or accommodations, unless you decide to splurge for a night at a hotel with fun amenities. Make it feel like a "real" vacation by planning outings for every day, such as trips to museums, tours, and other attractions. Be sure to include meal options that are out of the ordinary, such as dinner theater or picnics during hikes. Senior family members and children may be able to get discounts for many attractions and events, making them even more affordable.
Commune with Nature.
There are many ways family members of all ages can enjoy the natural world. Fishing is a fun way for multiple generations to spend time together, no matter if they're on shore or on a boat. Nature walks are a good way to find many types of insects, and birds that can be photographed and identified later. Depending on where you walk, you may be able to collect some leaves and rocks to take home and identify using books or the internet. Setting up a birdfeeder nearby will encourage birds to visit regularly; specialty seed mixes can attract certain kinds of birds, while a general seed mix will attract a variety of birds.
Have a Game Night.
This is a great way to bring generations together and have a great time for free. Enjoy outdoor games such as bags or badminton if the weather is nice or board games like Scrabble or chess if it's rainy. Don't discount video games just because there are older family members; many of them may enjoy learning a new one or may surprise everyone with their gaming skills! Many senior centers use Wii consoles to encourage people to stay active and some have enjoyed it so much, they began playing other games.
No matter what activities you choose, you can have an inexpensive, fun Labor Day weekend that everyone will remember fondly. This could be the beginning of a new family tradition.
When you need high quality senior care for your loved one, it's difficult to know where to go to find compassionate caregivers. That's why people trust Assisting Hands Home Care to provide comprehensive in-home elderly care. Our aides are thoroughly screened before hiring and are trained in first aid and CPR, so you can be sure there is a skilled caregiver with your loved one. Our services range from light housekeeping and transportation to 24-hour live-in care and Alzheimer's care, so we can provide the services your senior needs to continue to live an independent, safe, and secure life.