The advances in in-home care over the last generation have made aging in place the most popular option for seniors.  For those who choose to age in place they may need some level of care in their home.  This ensures that they can remain at home safely.  For some seniors this could mean a few hours of assistance each day while others may require full-time assistance and care.  Every senior citizen has the right to remain living in their own home.  For those that require full-time care Assisting Hands Home Care can help with our 24 Hour In-Home Care services.
Assisting Hands Home Care provides 24 hour care services for seniors in Fort Myers, Bonita Springs, Cape Coral, FL and the surrounding areas.  With these services one of our trained and certified caregivers will always be at the home of your loved one awake, alert and ready to respond to anything.  Our caregivers will cover everything from personal care and assistance with daily activities to meal preparation and companionship 24 hours a day.
Why Consider 24 Hour In-Home Care?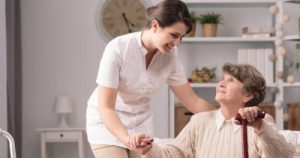 Those who have elderly relatives know that it can be stressful to leave them alone in their homes for any period of time.  Certain medical conditions such as dementia and chronic illnesses only compound the danger of leaving seniors unattended.
You never know when an emergency or a fall could occur.  Having someone to provide immediate assistance for emergencies could save a life.  Our 24 hour in-home care services are ideal for anyone who is affected by the following:
People with a history of Falls: With our caregivers always by your loved ones side, we can prevent them from falling. We'll eliminate potential tripping hazards and guide them throughout the home. If a fall does occur, our caregiver will immediately respond to help them.
Dementia or Alzheimer's Patients: If a senior is affected by Alzheimer's disease or another form of dementia they are likely to wake up in a confused state that prompts them to wander. An Assisting Hands caregiver will monitor your loved one to make sure they remain safe throughout the night.
The Terminally Ill and Hospice Patients
People Recovering from Illness or Surgery: After an illness or surgery can leave people feeling weak and in pain. We can provide 24 hour care to help with recovery from illness or surgery.
Bed Bound Patients:We can help bed bound seniors by helping with medication, restroom use, bathing, and eating.
How does this service work?
When someone needs 24/7 in-home care services we assign a team of caregivers that work 12 hour shifts.  This guarantees that there will be a caregiver awake in the home 24 hours a day.  We will meet with you and your loved ones and create a personalized care plan based on their specific needs. We can help with the following:
Help using the restroom during the day and in the middle of the night
Help bathing and getting dressed
Medication reminders
Fall prevention
Social companionship
Light housekeeping including basic cleaning and laundry
Meal preparation
Immediate response for emergencies including calling 911 and the nearest relatives
With 24 hour in-home care services from Assisting Hands Home Care we can provide you and your loved ones with peace of mind knowing that there is always a certified caregiver to react to any problem or emergencies.
We are honored to assist your loved one in their time of need, and even work with long-term-care insurance and the VA to help cover the costs of our services.
If you or a loved one in Fort Myers, Bonita Springs, Estero, Cape Coral, FL or the surrounding areas could benefit from round the clock assistance, contact Assisting Hands Home Care at (239) 337-4263 to learn more about how we could help.
---