Elderly relatives are often the most respected members of families because of the sacrifices they've made and the time they've spent providing for their families. When the time comes for them to need help with everyday living, family members often provide elderly relatives with the necessary care. However, families are not always able to provide sufficient care for seniors on their own.
It may seem reasonable for a family member to provide an elderly loved one with care at first. But with time, seniors' needs increase, and this can make it difficult for a family caregiver to provide their loved one with the care he/she needs. Family caregivers may already have their own jobs and families to take care of in addition to being an informal caregiver. As such, the demanding schedule can cause family caregivers to suffer from negative health effects. Hiring a caregiver from an elderly home care agency like Assisting Hands Home Care allows senior citizens to get the care they need at home.
At Assisting Hands Home Care, we provide elderly individuals in St. Charles, IL, who have decided to age in place with eldercare services. We develop a thorough, customized care plan for clients and a schedule that works for everyone involved. We employ certified and licensed caregivers who will provide seniors with quality, compassionate in-home non-medical health care, and companionship.
Elder Home Care Services in St. Charles, IL
We take the time to develop care plans customized to seniors' unique needs. Within the plan, the following care services can be included:
Errands and transportation
Light housekeeping
Meal preparation
Personal assistance
Care plans can also include the following specialized services:
Personal Care: We can help with a wide variety of personal care services like bathing, getting dressed, using the restroom, and more personal hygiene activities.
Meal Preparation: Seniors need to have regular meals but might have trouble preparing meals for themselves. Our caregivers will help by preparing meals that fit seniors' dietary restrictions.
Fall Prevention: For elderly individuals, falls are one of the most common injury causes. Knowing this, our caregivers will remove tripping hazards from homes and guide seniors to reduce the risk of falls.
Light Housekeeping: As people age, it becomes more difficult to clean one's home. Our caregivers will help keep clients' homes clean by performing light housekeeping: vacuuming, laundry, and more.
Transportation and Errands: Our caregivers can help out seniors who don't drive by providing them with transportation to medical appointments, family events, and more. We can also help run errands, such as picking up prescriptions and getting groceries.
Companionship: In addition to providing care and assistance, our caregivers will also be companions to your elderly loved ones. We will learn more about them by engaging in conversation and doing their favorite hobbies with them.
Alzheimer's and Dementia Care: To remain safe at home, elderly individuals suffering from Alzheimer's disease or dementia require specialized care. Our caregivers have been trained to provide such care and are able to do memory exercises with them in order to limit memory loss.
Respite Care: Informal caregiving is an admirable task, but oftentimes help is needed. Our caregivers can provide family caregivers with respite care so that they can take a much-needed break while ensuring their elderly loved ones get the care they need.
Overnight Care: People can be hesitant about leaving their senior relatives at home alone during the night because there's no one to assist them if needed. Our caregivers can provide overnight care, arriving during the evening and staying throughout the night to address any situations or emergencies that come up.
Live-In/24-Hour Care: If an elderly individual is in serious condition or has a chronic illness, then he/she may require constant help. We can help with that through our live-in and 24-hour care services. With our live-in care, a caregiver lives at home with the client but sleeps throughout the night. With our 24-hour care, a caregiver is awake to assist the client at all times.
Post-Surgical Care: Seniors can have an especially tough time recovering from surgery. Our caregivers can help elderly individuals who have recently had surgery by making sure they're comfortable at home and by reminding them to take necessary medications.
Fall Prevention
Falls are the leading cause of injury and disabilities among seniors. The conditions that lead to falls include weak bones and muscles, balance problems, and vision changes. Falls can also be caused due to abnormal reactions to medications, which cause dizziness. Incorrect use of equipment or loose carpets or rugs may also contribute to a fall.
Our home care professionals will always be available to assist your seniors with every movement and transport to prevent unfortunate falls. Our caregivers will be with your parents wherever they go, whether it's taking a trip to the park or visiting relatives, assisting them with everyday tasks like going for a stroll in the neighborhood, preparing meals, and taking out the trash. Our caregivers are attuned to your parents' needs, so when they need help getting up from a chair or walking down the stairs, they'll be there to ensure safety. Our goal is to help seniors enjoy their golden years as much as possible by keeping them safe and healthy.
Stroke Recovery Home Care
If you have a loved one who experiences stroke symptoms, it can be difficult to know how to support them. After a stroke, your elderly loved ones may have symptoms like weakness, paralysis, problems with balance or coordination, pain, numbness, and burning sensations. This can result in depression as well as an inability to live independently.
Assisting Hands caregivers are trained to take care of seniors who experience a stroke. They understand how to communicate with the elderly, recognize the symptoms of a stroke and what to do if they suspect a stroke, how to assist with physical rehabilitation, and how to manage mental health concerns such as depression and anxiety. Our caregivers are also dedicated to assisting seniors who are recovering from a stroke. They will help with activities of daily living such as dressing and bathing, assist with mobility and transportation, and provide nutritional services if necessary.
Free In Home Consultation in St. Charles, IL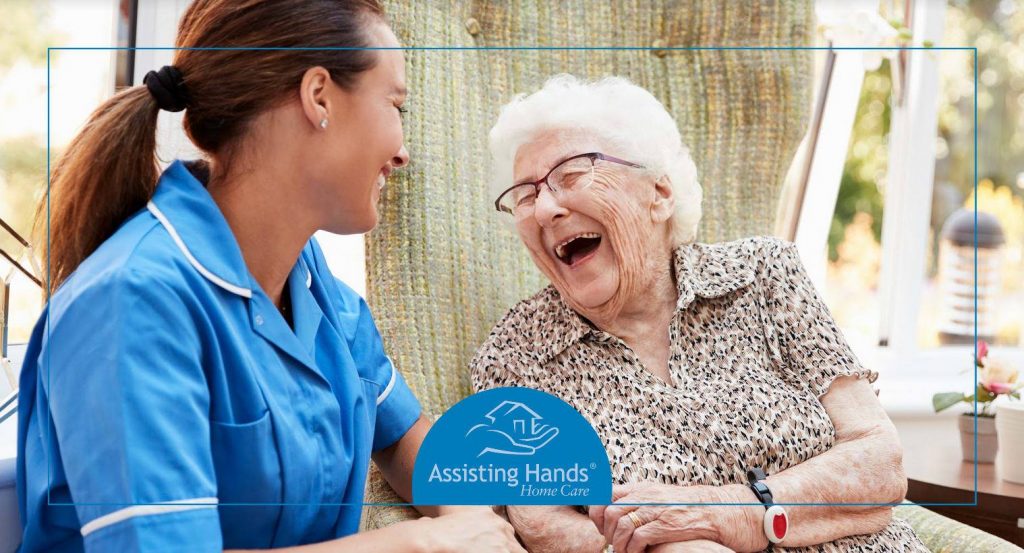 If you have elderly loved ones who have decided to age within the comfort of their own homes, be sure they get the care and assistance they need and deserve. Call Assisting Hands Home Care at (630) 948-8193 for our elderly care services in St. Charles, IL area. We will create a personalized care plan for clients to ensure their unique needs are met.
---
Related Articles about Home Care
Falls are a frequent occurrence among seniors that can result in major injuries and even death. Seniors fall because of age-related muscle, bone, and joint deterioration. Falls also increase the risk for osteoporosis (a weakening of the bones), which can lead to fractures. If you have a senior loved one that likes to go outdoors, it is essential to take any steps necessary to prevent them from falling and suffering injuries. Knowing what to do if your senior loved one does fall will help keep them safe when recovering from an injury.
As we age, taking care of our hair and skin becomes more difficult. Physical immobility or cognitive decline are often responsible for a neglect in self-care tasks, including showering and washing hair. Despite the challenges, seniors should shower and wash their hair once or twice per week if possible to maintain good hygiene.
If an aging parent has completed a power of attorney document and cannot make decisions for themselves, but is still living independently, adult children may decide that guardianship is best to ensure their parent's needs continue to be met. This process is not quick or easy and requires a hefty investment in time and money.
---
Related Service Areas:
Elderly Care Aurora, IL
Elder Care Barlett, IL
Elderly Care Batavia, IL