When people reach old age, one of the reasons that many are hesitant to give up their homes is because they have likely worked their entire lives to earn them. With this, more seniors have chosen to age within the comfort of their own homes, but they will likely reach a time when they require everyday help. While elderly individuals may have family members who are willing to care for them, their relatives can only provide so much assistance. If a senior citizen requires more consistent everyday care, the best action to take is to hire a professional caregiver from an in-home care support agency.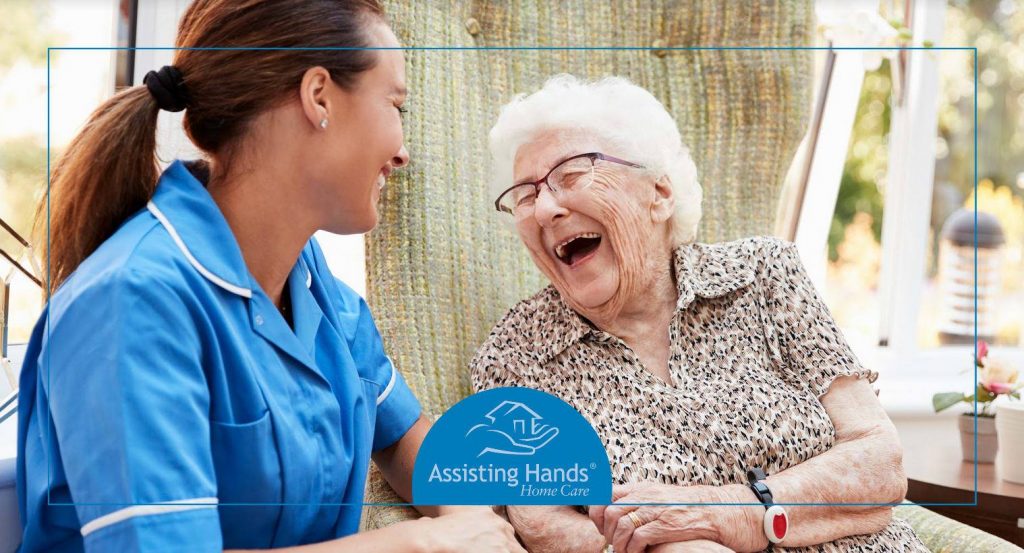 At Assisting Hands Home Care, we provide senior citizens in St. Charles, IL area with senior home care services. We ensure that elderly individuals and disabled adults receive the care they need and deserve by working with them and their families to develop an in-home care plan and schedule that works for all involved. Furthermore, these plans are flexible, so we can make adjustments if any care needs to change.
Assisting Hands employs certified, well-trained caregivers who are prepared to provide senior citizens with excellent care at home. Additionally, our caregivers are insured and bonded and have all undergone background checks. We are trained to respond to all emergencies and have first-aid and CPR training.
Complete In-Home Care Services in St. Charles, IL
After contacting us for our senior home care services, we meet with you and your loved one to evaluate his/her care needs. Afterward, we develop a care plan that caters to his/her unique needs and a schedule for our caregiver. The following may be included in the home care plan for your senior relatives in St. Charles, IL:
Help with Daily Routines: Whether it be getting out of bed, bathing oneself, or getting dressed, these tasks can be difficult to do for some elderly individuals. Our caregivers can help seniors with their everyday routines.
Transfer Assistance: Our caregivers can help individuals with limited mobility by helping them get in and out of bed, on and off the couch, or in and out of their wheelchair.
Restroom Use: If your elderly loved ones need help using the restroom, our caregivers are able to help them no matter if they need partial or full assistance.
Incontinence Care: Our caregivers will help seniors affected by incontinence by helping them change clothes and clean up if an accident happens.
Bathing and Showering: Regular bathing is important, but this can be difficult for seniors to do without assistance. Our caregivers will help seniors bathe and shower.
Getting Dressed: Our caregivers will help clients get changed into their day clothes in the morning and into their nightclothes in the evening.
Personal Appearance: Everyone finds importance in one's personal appearance, and this includes senior citizens. Our caregivers will help seniors maintain their personal appearance by helping them with their personal hygiene, ensuring they are always looking their best.
The following can also be performed by our caregivers as part of our senior home care services in St. Charles, IL:
Meal Preparation: To ensure they receive the nutrition they need; senior citizens need to eat meals regularly. Our caregivers will help with this by preparing daily meals for them. We will be sure to take any dietary restrictions into account.
Light Housekeeping: Cleaning one's home might be too strenuous for elderly individuals to do. Our caregivers will help with light housekeeping chores to maintain the residence's cleanliness.
Grocery Shopping: Our caregivers can go grocery shopping and do other errands for seniors, such as picking up prescriptions.
Companionship: It is common for seniors to feel lonely, which can sometimes lead to depression. Our caregivers will, in addition to providing them with care, act as social companions. We build personal relationships with clients by conversing with them and doing their favorite activities.
Contact Assisting Hands Home Care St Charles, IL for our attentive services
Assisting Hands Home Care's senior home care services are a great fit for elderly individuals who desire to age at home but still require assistance to live their everyday lives. For these services in St. Charles, IL, give us a call at (630) 948-8193. We will match your loved ones with caregivers who will provide personal care at home.
---
Related Services:
Senior Home Care Aurora, IL
Senior In Home Care Bartlett, IL
Senior In Home Care Batavia, IL