Who We Are

Assisting Hands Home Care is a renowned non-medical in-home care provider that helps senior citizens and adults with disabilities who have chosen to receive care in the comfort of their own homes.  We create care plans tailored to the unique needs of our clients to ensure that they get the specific care they need to continue living at home.
Our caregivers will help your loved ones with activities of daily living (ADLs) to ensure they get the personal care they need, and we can also help with medication reminders, meal preparation, transportation, light housekeeping, and other activities around the house.  Our caregivers will also be a companion for your loved ones, building an authentic personal relationship with them based on compassion and respect.
Each of our caregivers has been licensed, bonded, and insured and has passed an extensive background check.  They have also completed additional training after being hired so they are prepared to accommodate the unique care needs of your loved ones.  We can provide care for seniors whether they need personal care and assistance for part of the day, or care 24 hours a day.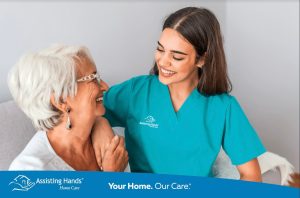 We personalize our senior home care services to understand the specific needs of your senior loved ones and provide quality care that brings them the most comfort, enjoyment, and companionship.
Veterans Care
As a Veteran, you may qualify for in-home care services. We are an approved provider for the VA. Ask your social worker if you may qualify for a home care benefit.
Our caregivers are trained to offer support, companionship and personal care to a loved one as their condition declines. Our goal is to bring them dignity, comfort, and quality of life.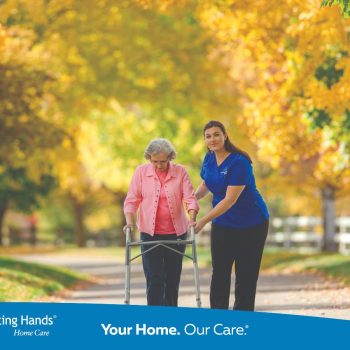 Our caregivers provide non-emergency transportation to help the elderly get to important commitments like doctor appointments, family gatherings, social events, or simply daily activities like grocery shopping.
Why Our Clients Choose Us

When our clients choose to work with Assisting Hands Home Care, they know that their loved ones are receiving quality, compassionate care that will allow them to live a better quality of life in their home.  We always treat our clients with the compassion and respect they deserve while ensuring that their non-medical home care needs are met.  Our care services are tailored to the specific needs of our clients, and you can depend on our caregivers to deliver effective care services.