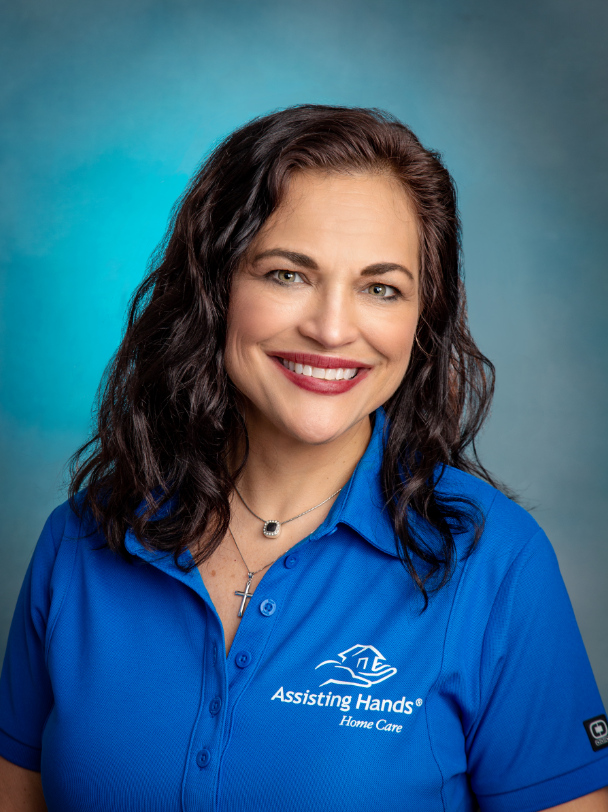 Meet the Owner!
Alison Shearer, owner of Assisting Hands Home Care – Lombard, Addison, Elmhurst & Surrounding Areas, feels that her entire life has prepared her for this business.
Alison was the oldest of five children growing up. When she was young, her family made regular visits to see her grandparents and great grandparents. Her and her siblings would spend time with their grandparents and great grandparents, giving them the attention they deserved and physical contact such as hand touching and hugs that made them feel loved. Alison's family taught her the value of extended family as well as the important lesson that senior relatives should never be forgotten.
There were several caregivers in Alison's family as one of her aunts owned a nursing home and another aunt was the head of volunteers at a hospital. As soon as Alison became old enough, she became a candy striper and volunteered at her aunt's hospital. During this time, she got used to providing assistance for those in the hospital and working with nursing staff.
Throughout her adult life, Alison made friends with senior citizens who were her neighbors and members of her church. She always made it a point to spend time with them, especially if they did not have family nearby, and invited them to her parties and to spend the holidays with her. She also helped out when they were ill if their families could not be around to help.
Alison has also experienced the effects that Alzheimer's disease can have on those suffering from the disease as well as their families. Both her grandfather and father-in-law suffered from Alzheimer's and she did what she could to help during these difficult times. This experience showed her how important it is for those suffering from Alzheimer's and other forms of dementia to receive care in their own homes.
Alison spent some time with a corporate job selling medical devices but wanted to make a career change that allowed her to put her life experience of caregiving to use. While on a vacation, she met a group of professionals from Assisting Hands who were on a retreat and she asked them about Assisting Hands and their experience working for the company. The Assisting Hands staff were happy to answer her questions and gave her a business card.
After thinking it over and meeting with other Assisting Hands franchise owners, Alison decided to get involved with an Assisting Hands franchise of her own. In December 2018, Alison received the license for Assisting Hands Home Care in Villa Park, IL. Along with her dedicated team of highly qualified caregivers, Alison is committed to putting her lifelong experience of providing care and companionship for senior citizens to use in Villa Park, Lombard, Elmhurst, Addison, and the surrounding areas of DuPage county, IL.
About Assisting Hands® Home Care
Assisting Hands Home Care® grew out of a desire to provide seniors, and others needing non-medical assistance at home, with the option that most people prefer – to remain independent, safe and comfortable in their own homes. Assisting Hands® is a home care franchise company that emphasizes exceptional customer service and highly personalized in-home care to meet the needs of our clients.
The founder of Assisting Hands Home Care® is Dr. Gail Silverstein, who has more than 25 years of experience coordinating and leading health care programs in both the public and private sector. It was Gail's understanding of the health care industry, along with the personal experience of trying to find assistance for her father at home, that led her to realize there was a serious gap in services. Out of this need, Assisting Hands® was launched – to provide a better alternative for the elderly, disabled and others needing a little extra support and assistance to stay home!
OUR CORE PURPOSE
To provide exceptional home care that enriches the lives of our clients and provides peace of mind for their families.
OUR MISSION STATEMENT
To offer our clients personalized non-medical support services in their homes, assisting the elderly, disabled and others needing assistance to maintain quality of life. Our services support the individual's choices and preferences in order to maintain their dignity and independence. We assist clients in a spirit of concern for their welfare, gaining satisfaction and a sense or pride for the value that we add to their lives.