Assisting Hands Home Care provides a wide variety of home care services that help seniors, expectant mothers or adults with limitations in Addison, Itasca, Wood Dale, Bensenville IL. Our services range from short-term home care to longer-term senior/elderly care, companion care, Alzheimer's & dementia home care. Call us at (630) 313-6160.
Non-Medical Home Health Care Services in Addison, IL

For Professional Non-Medical Home Health Care Services in Addison, IL, Call Assisting Hands Home Care Agency at (630) 313-6160.
There are more living options for today's seniors than ever before. While their parents or grandparents may have had to move into nursing homes when they couldn't do things for themselves anymore, specialized senior home care services allow seniors to stay in their homes for as long as they wish. Even patients with progressive conditions like dementia or Alzheimer's, or who need hospice care can stay at home, where they feel more comfortable and secure. Home healthcare services can assist with many daily activities, including cooking, light housekeeping, transportation, and much more.
Assisting Hands Home Care provides a wide variety of services that help clients in Addison, IL age in place and avoid moving into facilities. We've built a reputation of reliability and trust over the years because our entire caregiving staff is thoroughly screened and must pass rigorous background checks before we hire them. We can have a qualified caregiver in the home within 48 hours, if necessary – one who is bonded, insured, and trained in CPR and first aid.
Our services range from short term post-surgical care to longer-term care that allows seniors to age in place in the comfort and privacy of their own homes. These services include:
Senior Home Care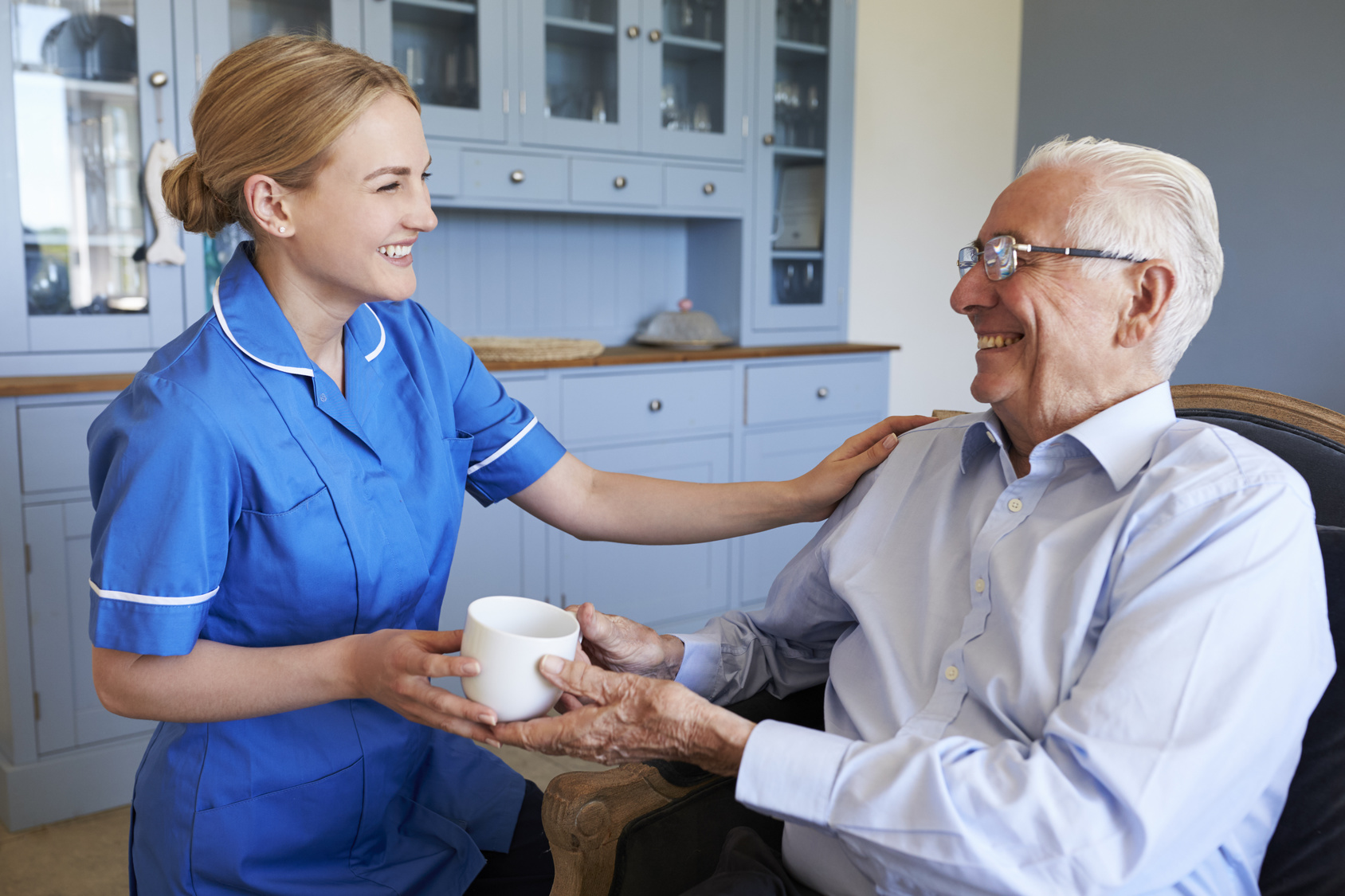 Our home health aides can help with a variety of daily tasks that become more difficult with age, including meal preparation, light housekeeping (including laundry, vacuuming and bed making) personal care, dressing, walking, mobility (fall prevention) and transportation.  We can customize our senior home care services to ensure your loved one's unique needs are met.
Hospice Care at Home
Our staff provides caring, compassionate care that allows terminal patients to spend their last days, weeks, or months in the comfort and privacy of their own homes. They can spend this precious time surrounded by the people, pets, and things they love best, in relative comfort, instead of in a sterile hospital room.
Respite Care
When a family member needs care, family members usually step in. That may work for a while, but there are times when the caregiver needs to take care of personal or business matters or take a break from caregiving duties. Assisting Hands provides high-quality respite care that allows seamless transitions while you take care of other business. We'll work with you to develop a comprehensive care plan to ensure there are no gaps in care.
Patients who have been diagnosed with Alzheimer's and other forms of dementia need specialized care to make sure they stay safe and healthy. Our staff receives specialized training to work with these clients and give them the compassionate care they deserve. We provide supervision and medication dosages and engage them in activities that stimulate their memories and may delay the progression of their conditions.
It's common to have difficulties following surgery, but seniors often experience more setbacks due to lack of mobility, problems with taking medications or difficulties getting to appointments on time. We help our clients in Addison, IL recover from all types of surgeries by providing transportation to checkups and rehabilitation appointments, monitoring their conditions for any changes, and assisting with medication dosages so they can recover quickly.
Overnight Home Care
Family members may be able to help a family member during the day, but caregiving can be more difficult if there's a need during the overnight hours and the caregiver has a job or family of their own. Our professional caregivers can provide assistance with bedtime routines such as changing clothes, using the restroom, and taking medication. They'll stay awake during the night to help with restroom visits or in case of emergencies.
It's stressful on the entire family when a loved one has trouble doing everyday activities, especially when they live on their own. Our live-in care and 24 hour home care services mean that clients can age in place in the homes they love. We help with daily tasks like light housekeeping, cooking, dressing, grooming, and more.
Taking care of personal needs becomes difficult after surgeries, certain medical diagnoses, or after serious accidents. Our compassionate caregivers can help clients with their daily tasks, such as bathing, dressing, shopping, and going to appointments. We encourage them to pursue activities and hobbies that help them enjoy their lives and treat them with the respect and compassion they deserve.
Free In-Home Assessment For Your In-Home Care Needs
Our Care managers meet with you in your loved one's home to do an assessment and learn your unique needs and situation. Then we'll work with you to create a specific care plan that addresses the client's needs and select one of our highly skilled caregivers who best suits those needs.
When you need compassionate home care services in Addison, IL, call the professionals at Assisting Hands Home Care. We'll help you create a plan that keeps your loved one safely in their home for as long as possible, so they can age in place in comfort and security. Call us at (630) 313-6160 for more information or to schedule a free consultation.
---
Related Services: