At Assisting Hands Home Care, we help senior citizens who have decided to age in place with our senior home care services in Collegeville, King of Prussia, Limerick, Norristown, West Norriton, PA and surrounding areas in Montgomery County, PA (See All Served Areas)
.
We create personalized care plans for each of our clients so that senior citizens can continue living in the comfort of their homes while getting the care they need.  Our senior care services start with an evaluation of your loved one's care needs so we can ensure that their needs are met.
Senior Care Services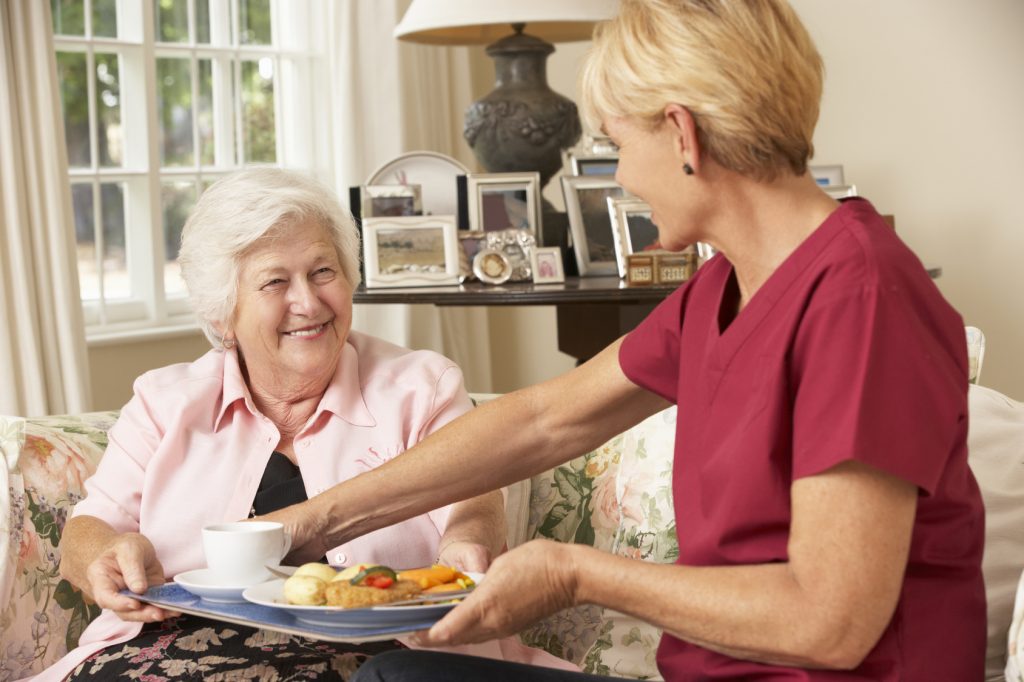 Our senior care services can accommodate the needs of your senior loved ones, including personal care and help with things around the house.  We will work with you and your loved ones to create a comprehensive care plan that covers their needs as well as a schedule for our caregiver.
The senior home care plan for your loved ones may include the following activities of daily living (ADLs) and other tasks:
Help with daily routines: It can be difficult for seniors to get through their morning and evening personal hygiene routines, especially if they have a physical or cognitive limitation. Our caregivers can help your loved ones with their routines including bathing, dressing, brushing their teeth, combing their hair, and more.
Personal Appearance: We will help your loved ones be confident in their appearance by assisting with activities like dressing, bathing, and combing their hair.
Bathing and showering: Our caregivers can give your loved ones full or partial assistance in the bath or shower.
Dressing: We can assist your loved ones when they get dressed in the morning and in the evening for bed.
Toileting: If your loved ones need help with toileting, we can provide full or partial assistance.
Transfer assistance: For seniors with limited mobility, our caregivers can provide transfer assistance. We will help your loved ones get into and out of their bed, recliner, or wheelchair and we can help them move throughout the home while keeping their path free of trip hazards.
Incontinence care: If your loved ones struggle with incontinence, we can help when they have an incident.
Meal preparation: Our caregivers can help seniors who do not cook by preparing meals for them. We will make sure their meals follow their dietary restrictions.
Transportation: We can help seniors who no longer drive by providing rides to doctor appointments and other important events and engagements. We can also help with grocery shopping, prescription pickups, and other important errands.
Light housekeeping: Our caregivers will help with certain light housekeeping tasks such as laundry, dusting, vacuuming, and changing linens to keep the home clean.
Companionship: One of the biggest issues that seniors who live at home deal with is loneliness, especially if they live far away from friends and family. Our caregiver will be a social companion for your loved one so that they are not alone.  We will establish a personal relationship with your loved ones and engage them in their favorite activities.
What are the Benefits of Senior Home Care?
Many seniors choose to continue living at home to maintain some independence, but they may also need to make compromises to ensure that they can live at home safely.  These compromises can include giving up driving as well as other activities around the home that may be too difficult.  For some seniors, they may require a level of personal care to continue to live at home.  Senior home care is an excellent option to ensure that seniors get the care they need while choosing to age in place.
Assisting Hands Home Care provides comprehensive home care services to ensure that seniors get the care they need to live at home.  Our caregivers are licensed, bonded, and insured and they have completed additional training so that they can provide your senior loved ones with quality care.  You can expect our caregivers to always treat your loved ones with compassion and respect while providing care.
Free In-Home Assessment
If you have senior loved ones in Collegeville, King of Prussia, Limerick, West Norriton or surrounding areas in Montgomery County, PA who have chosen to live at home after retirement, call our professionals at Assisting Hands Home Care to learn more about our senior home care services. Our licensed caregivers will ensure that your loved ones get the care they need to safely age in place.
You can call us at (610) 795-2896 to set up a free in-home assessment.
---
Related Services: