How to Help a Loved One Up After They Fall
Senior falls are extremely common. In fact, one out of every four individuals aged 65 and over experiences a fall each year. When a fall occurs, caregivers and family members are advised to learn how to help their loved one up without adding to injury.
Falls are serious and are common causes of broken bones, hip fractures or traumatic brain injuries in seniors. Each year, three million elderly individuals receive treatment in the emergency room for fall-related injuries. Falling even once can increase the likelihood of falling a second time by 50 percent.
Age can prevent older people from fully recovering after a fall. Consequences of sustaining injury after a fall include extended stays in nursing homes or assisted living facilities. Seniors' overall health declines. In-home support will be required since these individuals no longer function independently.
What increases fall risks in seniors?
Older adults have a greater risk of falling than their younger counterparts simply due to age. Seniors have decreased strength, as their muscles mass decreases and bones become weaker. Stiffness in hips and ankles, which are common with increased age, increases the risk of falling.
Decreased endurance prevents older individuals from standing or walking for reasonable periods of time and can lead to a fall. As they become physically inactive with age, seniors' decreased strength and balance cause them to be increasingly susceptible to falls.
Seniors who are prescribed medications may be affected by the drugs' side effects, which can impact their ability to stand upright. As vision declines in aging adults, they are less likely to see obstacles in their path and may stumble and fall.
When should emergency personnel be called?
A fall is a frightening event for the senior as well as caregiver. Family members or caregivers are advised to seek assistance in helping loved ones get back up on their feet. If it is determined that the senior is injured from the fall, call 911 for emergency help.
Calling emergency officials for help may not always be necessary. However, first responders possess the physical strength and stamina to return an aging person to his feet when caregivers are unable. These professionals provide what is known as a "lift assist" in non-emergency situations.
First responders are able to confirm whether or not the senior sustained injury and requires medical treatment. Be aware that it is possible for family members to injure themselves when attempting to lift a senior, and injuries can be a temporary obstacle to continued caregiving.
Both the caregiver and senior should try to remain calm throughout the process. Encourage the senior to inhale deeply, as taking slow, deep breaths has a calming effect. Limit the senior's bodily movements since unnecessary shifting can cause further harm.
Examine the senior's extremities, and look for bruises, swelling, bleeding and possible sprains. Ask the senior to communicate any feelings of pain and their severity. If the individual has sustained broken bones, limit his movement, and call 911. Keep the senior warm until the paramedics arrive.
How can caregivers return a senior to an upright position?
When the fallen senior has not sustained a fall-related injury, family members can help up their loved one by following a series of steps. The key to helping the senior become upright is to proceed slowly. Stop immediately if the senior experiences pain, feels tired or becomes stuck.
Bring two sturdy chairs to the scene of the fall. Place one chair near the senior's head and the other at his feet. The purpose of the chair near the senior's head is to give his hands a place to reach. He can then lift himself to a kneeling position.
Once the senior has his hands on the seat of the chair, ask him to bring his strongest knee forward. Instruct him to place one foot flat on the floor. His position should now resemble a kneeling lunge. The second chair behind the senior has its own useful purpose.
Shift the second chair closer to the senior. Ask him to use both arms and legs to push himself into a sitting position and into the chair behind him. Family members may lend support, but to avoid back injury, allow the senior to independently perform the heavy physical lifting.
Once the senior is seated and resting comfortably, encourage him to remain in place until he can move around with confidence again. At this point, it is important for the family member to notify the senior's doctor of the fall and remain vigilant for emerging pain or indications of injury.
Older adults who undergo a fall are unlikely to report the event to a physician. Experiencing a fall is often seen as an embarrassing sign that the individual is declining and will need additional help. But withholding this information prevents the senior from learning fall prevention tactics.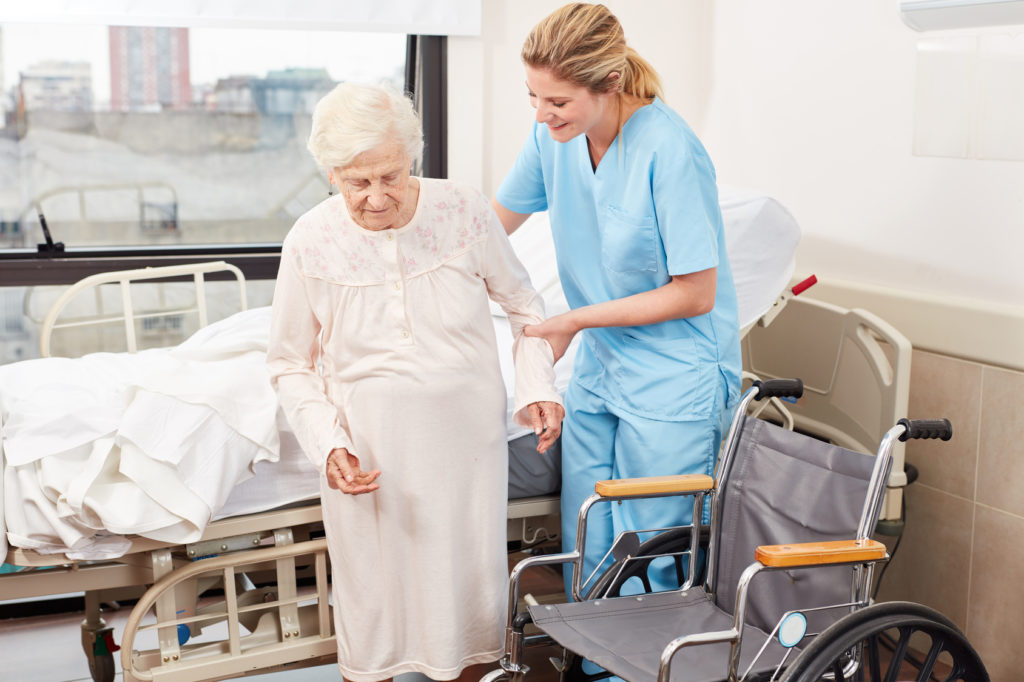 Family members who are aware of an aging loved one's fall should modify the home to prevent future falls. Simple improvements, such as installing grab bars and using mobility aids, help to increase safety. Caregivers from Assisting Hands Home Care are also available to provide fall prevention services.
Assisting Hands Home Care is a reputable home care agency staffed with a team of compassionate caregivers. Our professionals support seniors with everyday tasks in the comfort of home. We prepare meals, offer medication reminders, provide transportation, and help with personal hygiene.
Our elder care service providers also inspect the home for fall risks. We reduce clutter as part of our elderly fall prevention services. Professional caregivers help with transfers into and out of bed. If the senior is hospitalized as a result of the fall, we provide nonmedical post-hospitalization care.
If your loved one has fallen and needs in-home care, consult Assisting Hands Home Care. Our flexible elder care services include post-operative care, respite care and 24-hour care. Families with seniors living in West Palm Beach, Florida, are encouraged to call us for a complimentary in-home consultation.
Sources:https://dailycaring.com/why-do-seniors-fall-down/,https://www.agingcare.com/
Latest posts by Assisting Hands (see all)