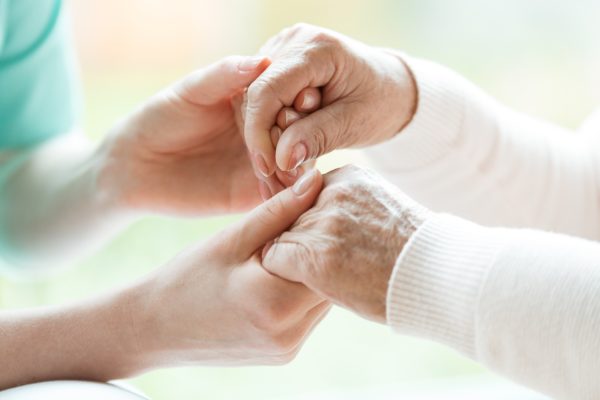 Assisting Hands Home Care can assist those living with Parkinson's disease with our Parkinson's home care services in Dallas, Highland Park, Richardson, University Park, and the surrounding areas in Dallas and Tarrant counties (See All Served Areas).  Our professional caregivers understand the needs of Parkinson's patients and we will ensure that your loved ones get the care and assistance they need to live safely at home.
Parkinson's disease is a nervous system disease that affects muscles and body movements.  This disease is also a degenerative disease as the symptoms will gradually become more severe.  Many people affected by Parkinson's may experience stiff muscles, poor balance, shakiness, tremors, and difficulty speaking which makes it difficult for those affected to live without care and assistance.  It is best for those who suffer from Parkinson's to have a caregiver in their home to help them with personal care and other tasks.
At Assisting Hands Home Care, we provide Parkinson's home care to assist those suffering from this disease in Dallas, Texas and the surrounding areas.  Our caregivers are trained to provide care for those with Parkinson's disease and help them with activities of daily living (ADLs) and other household tasks.  We will help you create a care plan that fits the unique needs of your loved ones and assign one of our licensed, bonded, and insured caregivers to provide care.
Development of Parkinson's Disease
A person becomes affected by Parkinson's disease when the nerve cells that produce dopamine in the brain breakdown and die.  With low levels of dopamine, the brain cannot continue to function normally and loses its ability to regulate body movements.  This results in the most common symptoms of Parkinson's such as slow movements, tremors, rigid muscles, difficulty speaking, loss of automatic movements, and impaired posture and balance.
Because Parkinson's is a degenerative disease, the symptoms will continue to get worse.  Those affected may also begin to suffer from the following complications:
Cognitive issues: Cognitive decline and dementia are common in those in the later stages of Parkinson's.
Depression: Those in the early stages of Parkinson's may experience fear, anxiety, and depression.
Swallowing and eating issues: Chewing food and swallowing can become more difficult as Parkinson's patients lose control of their muscles. This increases the risk malnutrition and choking.
Sleeping problems: It is common for Parkinson's patients to wake up frequently and have difficulty sleeping through the night.
Toileting issues: Lose of muscle control can make it difficult for those affected by Parkinson's to urinate or control their bladder. Slower digestion caused by the disease can also lead to constipation.
Home Care for Parkinson's Patients
Our Parkinson's caregivers will ensure that your loved ones with Parkinson's disease can live safely and comfortably at home.  We know how to care for those suffering from the main symptoms of Parkinson's disease and we can help them with activities of daily living (ADLs), transferring, medication reminders, and more.  Your family will have some peace of mind knowing that your loved ones who suffer from Parkinson's disease have a professional caregiver in their home to provide them with quality care.
Our Parkinson's home care can include the following:
Personal care and assistance: Our caregivers can help your loved ones with personal care activities that may be difficult including bathing, dressing, toileting, and transferring.
Medication reminders: We will remind your loved ones to take their medications at the right time.
Mobility assistance: We can help your loved ones get in and out of their bed, recliner, or wheelchair and help them move around the home.
Companion care: Our caregivers will not only provide care for your loved ones, but also be a friend and companion to them. We will build personal relationships with your loved ones and engage them in friendly conversation and fun activities.
Transportation and errands: We can provide transportation for your loved ones to get them to doctor appointments and other important engagements and take care of errands like grocery shopping.
Overnight care: With our overnight care services, your loved ones will never be alone at night. One of our caregivers will arrive in the evening and stay awake throughout the night to respond to emergencies.
Live-in caregiver / 24/7 home care: If your loved one is in the later stages of Parkinson's and needs constant care, we can help with our live-in and 24-hour care. With these services, one of our caregivers will always be in the home, 24 hours a day to provide assistance and respond to emergencies.
Call Assisting Hands for Free Consultation
If you have a loved one suffering from Parkinson's disease, our caregivers at Assisting Hands Home Care can help.  We will begin our services with a free consultation to determine your loved one's unique needs and create an effective care plan.  Give us a call at (214) 760-6944 for more information about our Parkinson's home care in Dallas, TX and the surrounding areas.
---
Related Services