Assisting Hands Home Care provides Alzheimer's and dementia home care services in Coppel, Texas. We employ a highly trained and experienced staff of caregivers who know how to give dementia patients the specialized care they need.
Alzheimer's and other forms of dementia are serious diseases that affect over 5 million American seniors. Dementia refers to a group of degenerative diseases that progressively destroy memory and basic cognitive capabilities, which Alzheimer's falls under. In most cases, symptoms begin as mild but eventually turn into more severe issues including long-term memory loss and the inability of the affected person to take care of themselves. Consistent and attentive care in a familiar environment is crucial to helping seniors live safely and comfortably as they deal with dementia.
Dementia and Alzheimer's Home Care in Coppell, TX

For professional Alzheimer's and Dementia Care services in Coppell, TX, call Assisting Hands Home Care at
(214) 865-7870
.
Assisting Hands Home Care offers professional at-home Alzheimer's and dementia care services to seniors in the Coppell, Texas area. We make living at home safe for individuals affected by memory diseases by providing dedicated personal care and assistance with everyday tasks. Our approach to dementia care is positive reinforcement of desired behaviors.
Caregivers at Assisting Hands are trained and caring professionals who you can depend on to give your loved ones the care they need at all stages of their battle with dementia.
Alzheimer's and dementia require specialized forms of care that is more involved than standard at-home care.
We know how to effectively handle the mood instability that often comes with dementia by using positive reinforcement methods.
Our caregivers will keep your loved ones engaged with mind-stimulating games and activities.
What is Alzheimer's Disease and Dementia?
Contrary to what many people believe, Alzheimer's and dementia are not the same thing. Alzheimer's disease is a specific form of dementia, which refers to a collection of diseases that cause memory loss and gradual cognitive decline. Alzheimer's does, however, account for a large portion of total dementia cases, which may explain why people often use the two terms interchangeably. In the United States, Alzheimer's is the sixth most common cause of death, and it makes up 60-80% of dementia cases. Whether it's Alzheimer's or a different form of dementia, all sufferers will go through progressive decline in their cognitive ability and ultimately suffer long-term memory loss.
Identifying Alzheimer's Symptoms
Alzheimer's and dementia can be difficult to spot because the symptoms are often overlooked as being part of the typical course of aging. If you notice any of the following signs continuously, you may be dealing with a case of dementia:
Memory lapse
Poor spatial and visual awareness
Impairment of reasoning
Inability to hold a conversation normally
Unpredictable behavior and mood
Dementia and Alzheimer's Home Care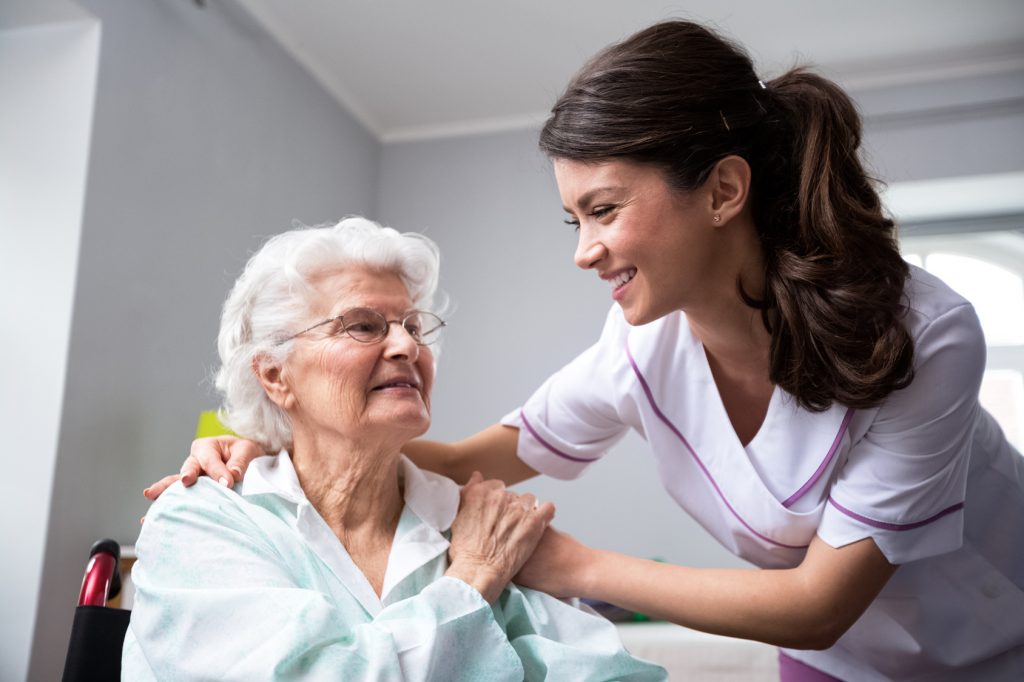 Before we start care, we'll first meet with you for an evaluation of your loved one that will help us understand their situation and how we can most effectively meet their needs. We will then create a comprehensive plan for care that includes everything from personal care to household chores and preparing food.
At Assisting Hands, our caregivers work closely with your loved one to slow the progression of memory loss and cognitive decline associated with dementia. Any of the following activities may be included in your loved one's care plan:
Music
Book reading
Arts and crafts
Simple, safe outings
Card games
Watching movies and television
Looking at old family photos and videos
Call Assisting Hands for In-Home Consultation
Providing the proper care for seniors suffering from Alzheimer's and dementia is a major undertaking. Assisting Hands caregivers will work tirelessly to support your loved one throughout their journey and ensure they stay safe while living at home. Contact us at (214) 865-7870 to schedule your consultation for in-home memory care in Coppell, TX for your loved one.
---
Related Services: